Nathan Clark (Artist-in-Residence, 2019)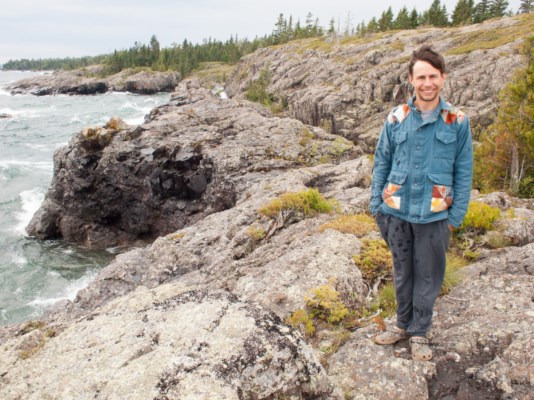 Isle Royale Reflection
"I am exceptionally thankful to have been awarded this opportunity! I cannot express what Isle Royale and the Dassler Cabin has meant to me, the respite from my daily life in the Pacific Northwest was a much needed deep breath this past summer. This was my second stay at the Dassler Cabin, my partner Michelle Lassaline was artist in residence three years ago. My life has been very busy since my last visit in 2016, I've finished my graduate degree in painting and expanded my art practice to include sculpture and installation, as well as photo/video. I spent a majority of my time in residency reading, enjoying the detachment from a life of hustle as an adjunct Art Professor at the University of Puget Sound and at the University of Washington, as well as working as an art handler at the Henry Art Museum, and as studio assistant for painter Denzil Hurley.

Michelle and I planned our return adventure in a similar way to our first stay at the Dassler Cabin, driving out from Seattle to Houghton over four days, stopping in Missoula, Montana, Theodore Roosevelt National Park in North Dakota, the Chippewa National Forest in Minnesota, and spending the night at the Hancock campground before boarding the Ranger III. On Isle Royale we canoed up and down Tobin Harbor, hiked Lookout Louise and Mt. Franklin, ate wild blueberries, thimbleberries, and dewberries, and spent portions of most days on the Scoville Point trail chatting with park visitors. We had hoped to do a canoe camping trip but our plans changed as strong winds and hard rain blew in for the last five days of residency. Luckily the weather cleared for our return ride home - I will forever remember the sunrise over Scoville Point as we motored away from the Dassler Cabin.

I read Annie Dillard's "An American Childhood", Ursula K. LeGuin's version of the "Tao Te Ching," "The Overstory," by Richard Powers (which I left for the cabin's library) and most importantly Karen Barad's "Meeting the Universe Halfway, Quantum Physics and the Entanglement of Matter and Meaning." To quote Dr. Barad, "Practices of knowing and being are not isolated; they are mutually implicated. We don't obtain knowledge by standing outside the world: we know because we are of the world. The separation of epistemology from ontology is a reverberation of the metaphysics that assumes an inherent difference between human and non-human, subject and object, mind and body, matter and discourse... What we need is something like an ethico-onto-epistem-ology - an appreciation of the intertwining of ethics, knowing, and being - since each intra-action matters, since the possibilities for what the world may become call out on the pause that precedes each breath before a moment comes into being and the world is remade again, because the becoming of the world is a deeply ethical matter." Thanks to everyone who made this possible, especially the many park staff (Chris, Molly, Nathan, etc.) who helped facilitate my residency!"

- Nathan Clark, December 2019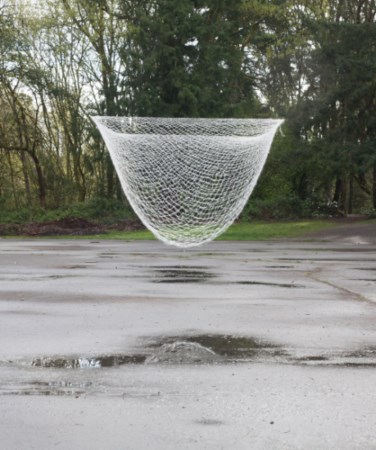 About the Artist
Nathan Clark was an Isle Royale Artist-in-Residence from August 20 to August 31, 2019. Born in Olympia, Washington (1987), he received his BFA in photography and painting from the University of Nevada, Reno, in 2010. After living in the Great Basin for ten years, and participating avidly in the burgeoning art scene of Reno, NV, Clark moved to Seattle in 2016 to pursue an MFA in painting and drawing.

The openness of the desert became a strong influence on Nate's paintings and mark-making. The repetition of mark became physical in Clark's graduate work as he shifted from painting to sculpture; he began tying nets as a means of embodying the mark-making process developed in his paintings. Nate currently teaches drawing and painting as an adjunct faculty member at the University of Puget Sound and the University of Washington, and works as a studio assistant for his mentor Denzil Hurley, UW professor emeritus.

You can view more of Nathan's work on his personal webpage.


Next Artist-in-Residence by Date
Return to the Artist-in-Residence Exhibit
Search by Year

Search past Isle Royale Artists-in-Residence by year of their residency.

Search by Artist

Search past Isle Royale Artists-in-Residence by last name.

View Gallery

View past Artist-in-Residence artwork sorted by medium.
Last updated: December 19, 2019