Julia Barello (Artist-in-Residence, 1991)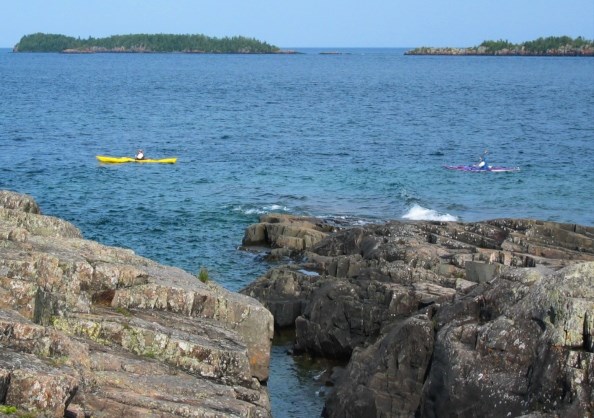 Isle Royale Reflection
"My days at Isle Royale were filled with reading, sketching, traversing the land and water, looking, collecting, and thinking. All that was pivotal in the clarification and refinement of my key ideas as an artist because it required forced contemplation. The site itself raised the very issues at the core of my work. I have always circled around the notion of polarities—nature/culture; man/woman; intellect/body. When I was at the park, I became involved in the discussion of how to fulfill the park's mission of remaining as natural as possible. Just what could that natural state be? Did it include wolves? moose? cabins that hosted families for generations? kayaks? fishing and timber interests? copper mining? pleasure seekers? Both the nature and the culture of Isle Royale raise these questions, not offering simple answers. Once this complexity was clear, I realized that these polarities that we structure life and thought around are merely markers which don't indicate the edges of a discussion, but instead reside like the spots in water where two stones land in proximity. Their edges overlap, distort, impact, and implicate each other. It was this idea that led to the painted and collected art piece that I made for the park.

The art that I have made since leaving Isle Royale is always about examining overlaps and intersections in life—the intersection of jewelry and medicine; the acts of observation and experience; the conflict of deifying the natural world and trapping it at the same time. I left Isle Royale with many questions, and I think back to it often as a place which crystallized issues that range from the deeply personal and artistic to the political and social. It amazes me still that a place in "nature" contains so well with these discussions, arguments, and questions."

- Julia Barello*
About the Artist*
Julia Barello was the very first Isle Royale Artist-in-Residence from July 9th to July 24th, 1991. Although her work ranges from the intimate art of fine jewelry to large-scale installations, she considers herself primarily a metalsmith.

She grew up in Washington State and received her undergraduate degree in art history from Fairhaven College in Bellingham. She has toured extensively throughout Southeast Asia, Mexico, and Guatemala. She completed her master's work in fine arts at the University of Wisconsin at Milwaukee in 1992. Her artwork has garnered praise both nationally and internationally through museum and gallery exhibitions, such as the 1998 Phoenix Triennial, the 1997 Medicine Show at the Houston Center for Photography, Signals: Late Twentieth-Century American Jewelry at the Cranbook Art Museum, Bloomfield Hills, Michigan in 1996, and a 1995 one-woman exhibition in Taipei, Taiwan.
Since 1992, Barello has worked as a professor of art at New Mexico State University, Las Cruces and is currently the Academic Department Head.

*[Source for all Julia's page content: Root, Robert and Jill Burkland, editors. (2000). The Island Within Us. Houghton, MI: Isle Royale Natural History Association. p 24. Print.]
Search by Year

Search past Isle Royale Artists-in-Residence by year of their residency.

Search by Artist

Search past Isle Royale Artists-in-Residence by last name.

View Gallery

View past Artist-in-Residence artwork sorted by medium.
Last updated: December 13, 2019