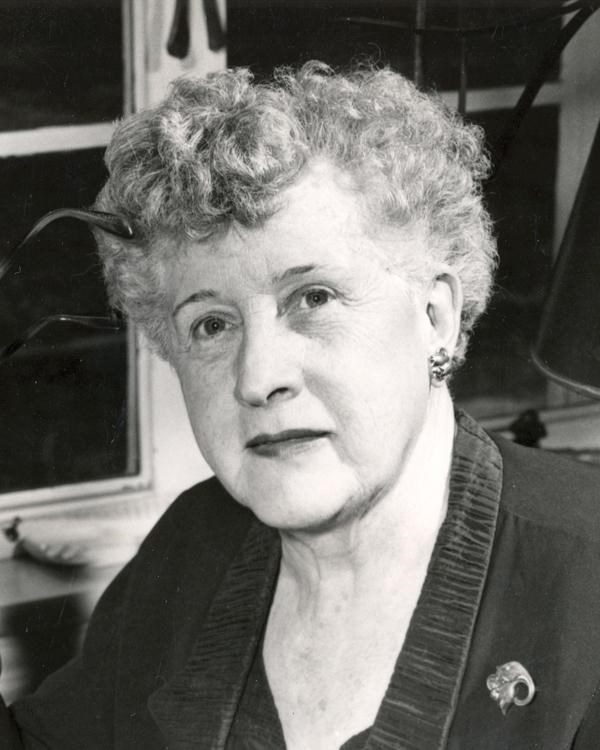 Significance:
Conservationist and activist in Northwest Indiana
Place of Birth:
Neema, WI
Date of Birth:
December 1, 1886
Place of Death:
May 17, 1977
Date of Death:
Palo Alto, CA
Heroine of the Dunes
Inspired by women's success to conserve a state park and motivated by looming industrialization, the dignified Dorothy Buell rallied public support and was instrumental in the battle to establish a national park in the Indiana Dunes. With her enthusiasm, wit, and tireless energy, she established and directed the Save the Dunes Council where she courageously led citizens insistent on stopping the despoiling of remaining unprotected habitat in Duneland.
Quote by her:
"We are prepared to spend the rest of our lives if necessary to save the dunes."
Quote about her:
"She based her faith in the eventual outcome on the moral rightness of saving the dunes; that faith continued, absolute and unshakable, for the rest of her life."
Biography:
Dorothy Richardson was born on December 1, 1886 in Neema, Wisconsin. Her father was a bookkeeper, and she was the youngest of four children. Dorothy's passion for public speaking and her faith was evident from early in her life. By March of 1904 at the age of 17, Dorothy was leading meetings for the Young People's Society of Christian Endeavors. That April she placed in her high school's declamatory contest. She graduated from Menasha High School in 1905 in a class of eight students. She delivered a "commencement exercise" on "The Peasantry of Russia;" where she told harrowing tales of poverty and oppression by serfs. Almost prophetically, Dorothy's high school class motto was "Perseverance Wins."
Miss Richardson attended Milwaukee-Downer College for two years, about 100 miles south of her hometown. She switched to Lawrence College's "School of Expression," less than ten miles from her home. She became one of the 30 members of the new "Ladies' Glee Club" of Lawrence College; the Menasha Record newspaper noted that practically every young lady in the school participated in tryouts. Dorothy had an interest in the ways words sounded and how they were pronounced. In 1908 she was listed as part of Menasha Club where she "recited a dialect piece on "Long Dennis," otherwise lawn tennis." Dorothy earned her bachelors of oratory degree in 1909; for her closing recital, she performed an original arrangement of Laura E. Richards' "Captain January."
Following graduation, Dorothy began to help her high school's overloaded English department in the fall. By summer of 1910 the following year, Miss Richardson was employed at the Menasha High School in "expression work." She worked diligently and continued her passion for dramatic performances. That October, Dorthy, along with her sisters, were "well-known sisters of Lawrence college," and together they directed "The Brownie Band." This operetta, whose proceeds went to their church, was held at the Germania house in Menasha, and included "bands of brownies, wood-nymph gypsies, wee wees with owls and butterflies, the fair queen, fairy princess, and flower girls." In the decade to come, the Prairie Club of Chicago would be putting on similar performances in the Indiana Dunes across the lake from Ms. Richardson. Dorothy also continued to foster her connection to her faith. By February of 1911, she led the local Christian Endeavor Society.
For about the next six years, Dorothy remained very active in her church, while making occasional visits to Denver, Colorado. She spent her summer vacation from working at the high school there in 1911. In church, she was known to perform in their special Christmas programs, when in 1913 she told the story of "why the chimes rang." She was also a Sunday school teacher, where on one occasion she treated her students to an old-fashioned sleigh ride. In November of 1915, Dorothy returned to the home of her parents after spending a year in Denver.
On June 15, 1918; she married Captain James Buell at the LaSalle Hotel, the military headquarters at Chicago for World War I. Because of James' military career and the state of affairs, the wedding was in the presence of immediate family only. He was a military inspector who visited various schools and colleges across the country. The Neenah Daily Times reported of their union; "The ever increasing demand for speed in all forms of war work making rapid organization imperative, accounts for the necessity of the marriage in Chicago instead of the home wedding of peace times." The young Mr. and Mrs. Buell moved to Washington D.C. where they lived for a year. James or "Hal," as Dorothy called him, continued to travel across the country for work; the following year, the now Major Buell visited Kentucky, Ohio, Tennessee, Arkansas, New Jersey, and Vermont. While her husband was gone, Dorothy taught dramatics in Gary public schools in 1919. That summer she studied at the University of Besancon in France.
By 1922, Dorothy and Hal had moved to an apartment in Tusla, Oklahoma and Hal was the manager of production for the Oklahoma Power Company. Dorothy gave birth to their only son, Robert, in 1923. Mrs. Buell became involved in oratory-related clubs again, and in 1924 she brought much applause with her interpretation of Bernard Shaw's "Pygmalion" at the Tulsa Theater Guild's monthly meeting. The young family continued living in Oklahoma until at least 1927 when Hal was vice president of the power company. Sometime before 1930, they moved to Chicago where they were recorded living in the census that year.
Hal continued his career in Chicago as an "executive" in the "utility" industry. Chicago. Dorothy became involved in Columbia College and Goodman Theater. In 1930, Dorothy and her husband traveled to Europe; this time her studies specialized in dialect and English accents in London.
Dorothy became acquainted with the Dunes she was destined to save: 
"I learned to love the dunes when my father lived in Gary, had a cottage in what is now Ogden Dunes. At first, it was only a place to swim and camp. But as I grew older and became acquainted with the beauty of the area, I began to feel that it was meant to be enjoyed by all people."

In 1932, the family moved to Flossmoor, Illinois, where Dorothy became the book review club leader, directed American Legion plays, and continued to connect with her faith. In 1935, she opened with devotionals for the Women's Association of the Flossmoor Community Church. Dorothy's connections grew as she joined the Flossmoor League of Women Voters and gave a dramatic reading for the Whiting Women's Club's banquet. In keeping her love of Christmas, Dorothy read a Christmas play for the Homewood Woman's Club in December of 1940.
According to Hal's World War II registration card in 1942, they had moved to Ogden Dunes, Indiana where he commuted to the Middlewest Service Co. in Chicago at age 60. Staying true to herself, Dorothy formed book clubs, did dramatic readings, and enjoyed theater.
In 1949, Dorothy and Hal visited White Sands in New Mexico; Dorothy recollected, "I was completely overwhelmed by the area and said, 'If the federal government can afford to buy all that white sand, why can't it do the same for our dunes?'" Just before the pair arrived back home, they stopped at the Gary Hotel for dinner. They happened to notice a flier for an "Indiana Dunes Preservation Council'' meeting and decided to attend. "I raised my voice at the meeting and suggested that perhaps the women of Indiana could again do something. Everyone agreed it was a good idea, and somewhat to my surprise, they asked me to start it. I said I would try." Myron Reubon Strong, a recently retired professor in Chicago who was leading the cause, felt the pressure to reach a wider audience. He wrote Dorothy in February of 1952:
"I wish to discuss with you the problem of leadership for our effort to save the dunes between Ogden Dunes and Dunes Acres… we lack aggressive leadership. We need a more active campaign than we have had so far… it is my judgment that we need someone who will do what Mrs. Sheehan did in the promotion of the Indiana Dunes State Park, and I think you may be the person to do this."

At 65 years old, when most people slow down or retire, Dorothy gained "a cause, a lifework, an obsession, a vocation." She decided to form an advocacy group in order to add 5 miles of shoreline to Indiana Dunes State Park. At first, the group did not want to get political, and Dorothy thought by simply educating people on their importance, the Dunes could be protected. "She based her faith in the eventual outcome on the moral rightness of saving the dunes; that faith continued, absolute and unshakable, for the rest of her life." Once Dorothy decided on saving the dunes, she was committed. She said of the movement, "The fight for the Indiana Dunes was something I could not let go— anymore than I could let a child run in front of a car and not stop him."
On June 20, 1952 Dorothy assembled a group of 25 women in her living room; the group was the founding members of the Save the Dunes Council. Bess Sheehan, "Lady of the Dunes," attended the meeting and shared her experiences from helping save the Indiana Dunes State Park thirty years before. No negative campaigning was Dorothy's model for the group. Save the Dunes Council's goals were to "spread the gospel; get as many people as possible behind us; collect money; buy the land." With the formation of the new group Dorothy proclaimed her famous line, "We are prepared to spend the rest of our lives if necessary to save the dunes."
Ruth Osann, a future director of the Save the Dunes Council, recalled "We were naive at first, we didn't think of it as a political movement. I mean, just as no one is against motherhood, we thought no one could be against saving the dunes."
When Dorothy formed the council, she was unaware of a proposal to build a port in the location of the choicest dunes. Save the Dunes Council member Herb Read recalled:
She went to the Indiana politicians - the governor, senators, congressman - and said she thought all we'd have to do was show the beautiful dunes that are there and they'd say it should be preserved as a park. 
They said, 'Oh no, we need that area for steel mills and a port.'
She asked them why and she was told, 'You're a woman. You wouldn't understand such things.'

Dorothy remembered, "I felt that saving the dunes was important for future recreation, science, and beauty, so I went to work." Under her direction, the Save the Dunes Council initiated a national membership campaign in order to raise awareness and funds. Dorothy launched the "Children's Crusade to Save the Dunes" campaign, where school children sent in their pennies to help support the Council's efforts. In 1953, the Council acquired a critical piece of the dunes and their first tract of protected land in Duneland. Local self-taught botanist and Save the Dunes member Lois Howes discovered the sale of the floristically rare and historically important wetland known as Cowles Bog. Lois convinced Dorothy to purchase the 56 acre core where Professor Henry Cowles studied and helped open the scientific community to the Indiana Dunes. "When I first learned about the sale, I didn't even know what a bog was," Dorothy admitted. She obtained half of the necessary funds with the help of Bess Sheehan, who was treasurer of the National Dunes Park Association, a group that attempted to make a national park in the Indiana Dunes over thirty years prior. Bess liquidated the account's remaining funds.
By 1956, the Council had grown from 25 women to over one thousand men and women from all across the country. As the group grew and diversified its membership, their trajectory became more politically involved. Despite the growing momentum; in 1957, Council members felt as though industry would persevere. That year, the Bethlehem Steel company acquired 4,000 acres of the "choicest" dunes, the Lakeshore Development Company purchased 5,200 acres of dunes, and Indiana legislature appropriated $2 million to purchase the harbor site pending the approval from the United States Army Engineers. After the Council learned that industries wanted to develop the most pristine, diverse, and intact area remaining known as the Central Dunes, and with no help from Indiana legislators, Dorothy wrote Senator Paul Douglas. She knew of him through his wife Emily Taft Douglas, previous congresswoman and daughter of Prairie Club member Lorado Taft; and wife of the senator. She knew he had connections to the Indiana Dunes. Senator Douglas delved into the project whole-heartedly.
Douglas contacted the two Indiana U.S. senators to tell them of his intentions to introduce a bill to make a national park in the Indiana Dunes. According to the Times of Munster, one of the senators said that he had to talk it over with "the boys" back home. After he arrived back in Washington D.C., he told Douglas, "I can't do it. They have other plans."

Senator Douglas contacted Dorothy shortly after. Herb recalled, "He called her up and said he'd just introduced a bill to create the Indiana Dunes National Lakeshore… I think she was stunned." Herb's wife, Charlotte Read, laughed as she remembered Buell's take on Douglas; "She and her husband were staunch republicans… I remember her saying once, 'I just can't imagine Sen. Douglas being a Democrat. He's just such a nice man.'"
Paul reflected on the period in his memoirs:
After I introduced a bill to save nearly 4,000 acres and four miles of beautiful shore line, the Indiana politicians, press, and industries at once opened fire. I was, it was said, "interfering" in something that was none of my business and merely "the representative of corrupt greedy Chicago," which was trying to prevent Indiana 'from developing further as a shipping port and steel center.'
…Some of them [Indiana politicians] were also close to the steel companies. At this state, no Indiana elected official dared to support the park.
If there was ever a case where the state approach to a regional need was grossly inadequate, this was it. Aside from the little Indiana state park of 2,300 acres that had been purchased forty years before by generous contributions from Chicagoans… the people of the midwest were about to be shut off from access to Lake Michigan, the beautiful Dunes would be despoiled into a jungle of steel and asphalt.  

In 1958, Dorothy felt the building pressure of development, "...we feel the dire need of giving the people the last available space. Time is precious, since the danger of encroachment of industry is imminent." That same year the Council produced a film calling for the Dunes' preservation that Paul Douglas helped distribute while introducing his first unsuccessful bill for a unit of the National Park Service in the Indiana Dunes. Another future Save the Dunes Council President, Sylvia Troy, said of Dorothy, "She was not political, but she had this wonderful way of bringing politicians together for this common vision." When an unsuccessful bill was introduced in the 1959 state legislature to buy the Central Dunes, a reporter called her "a gray-haired woman with considerable force."
Future Executive Director of the Save the Dunes Council Charlotte Read recalled:
I think that probably a lot of the council members thought that by getting out the message that [the dunes] were beautiful—there are all these birds and all these flowers—it would make its own case. You didn't have to get [partisan] or political. They were just so beautiful that once you made the facts known, the numbers would flock, but in '59 I think the petition drive was that type of thing. You want to impress legislators, and they tried to impress Congress, but it's not the kind of lobbying or political involvement we thought we could do.

But the Council was getting more political. When the issue was framed as picnics vs. paychecks, Dorothy shot back at the Senate committee; "Mr. Humphrey [resident of National Steel] has said he prefers jobs to picnics. We ask,' why is it not possible to have jobs and picnics.'"
On July 23, 1961, Dorothy Buell and the Save the Dunes Council organized a tour of the dunes with Senator Douglas and many Washington D.C. and local officials in support of a national park. By the end of 1962, they had lost their beloved Central Dunes. Dorothy and the Council lugged beloved Dunes painter Frank Dudley's paintings on coach buses to the nation's capital where they hoped to inspire action to save the area. While Congress deliberated on a bill to save those dunes, they learned they were being actively demolished by bulldozers. Sylvia Troy remembered:
"It was a low point of the struggle and a point at which the Council seriously considered giving up on the whole thing. They decided, instead, to fight harder and to save as much unspoiled land as they could – in big and little pieces – along the whole 15-mile shore."

Save the Dunes member and founder of ACRES, Tom Dustin, Indiana's oldest land trust, said of Dorothy: 
"When Mrs. Buell got up to speak, you could hear a pin drop. Never on the offensive, she stuck with the basic issue of saving the Dunes, and she garnered incredible respect. No one would dare criticize her, the high road all the way."

In March of 1964 Dorothy addressed the Senate committee on "Interior and Insular Affairs," proclaiming, "Our contention is that why in this vast land of ours must these very special areas be ripped from the people, since there are so many other suitable places for industry." Dorothy paid homage to her dramatic and oratory roots, and recited from The Patriots, "Alexander Hamilton says to Thomas Jefferson: 'Vast sums of money are being made by manufacturers and industries. They are building America.' Jefferson replies, 'Good, let's encourage them, but not at the expense of the people.'" Dorothy continued at the committee hearing:
"Gentleman, this is what is happening today. The people have been exploited by industry. We accepted the compromise, though we have lost the best area. But we will continue to work for the remainder of the Indiana Dunes."

Duneland authors Kay Franklin and Norma Schaeffer wrote of Dorothy, "Friend and enemy alike marveled at her energy, persistence, and stubbornness." The Council focused on stalling of the port by identifying large errors in the cost-benefit ratio. This allowed for the national attitude of land-use and preservation to catch up to the Save the Dunes movement. The authors also noted that Dorothy:
"Radiated a dignified presence that allowed her domination of any company. She dressed formally for public occasions, complete with hat and gloves. When she wished, she could silence a room full of ideological enemies with the meaningful incline of her white, waved hand."

They also included a collection of quotes from a number of individuals that commented on Dorothy: 
"Seemed ageless, charming looking, spirited, firm, natural." 
"She was fun, gay, and very able" 
"She had an intriguing, unique personality" 
"... a dedicated, wonderful person" 
"A real human being who could let her hair down yet always handle everything"
"Authoritative, unfalteringly 'right'"

In 1965, Dorothy addressed a House committee, declaring, "We are not a fly-by-night organization. We are the culmination of a long, intensive interest in an unusual area, which has attracted the attention of noted naturalists, scientists, botanists, geologists, and artists since the development of the Middle West…" The following year she addressed the House of Representatives, "We appeal to you from the standpoint of a real necessity in the great metropolitan area, to recognize the urgent need and in fair play to grant to the people such an inherited possession." In addition to applying her oratory skills for the Save the Dunes effort, Dorothy used her faith for inspiration, "I come from a religious family and as I decided what to do I thought of two Bible verses that I often have used in my campaign— 'Where there is no vision, the people perish,' and 'By their works, ye shall know them.'"
As the possibility of a national lakeshore grew more likely, park opponents devised a last-minute plan to kill the park bill. They focused on Dorothy's community, and persuaded Rep. Charles Halleck to include Ogden Dunes' beaches in the boundaries of the proposed national lakeshore. Halleck gloated to reporters that the bill was "dead" because the Council would find it "unacceptable." According to Ron Cockrell's report on the administrative history of the Indiana Dunes National Lakeshore, "It was a classic example of underestimating the foe." He continued with a quote from Save the Dunes Council member Herb Read, who said:
"We had a Save the Dunes Council Board meeting and unanimously passed a resolution in support of including not only the Ogden Dunes beach, but also the remaining privately owned beaches as well. Our opponents were confounded again and Charlie Halleck was in trouble with a number of his Republican friends who really didn't want the beach in. Oh, how we laughed at that episode. To this day some of our old enemies can't believe that our publicly stated objective was our actual objective."

In November of 1966, a bill was finally passed and signed by President Lyndon B. Johnson to authorize the establishment of Indiana Dunes National Lakeshore. A bill that authorized the port was also signed. Although the Council did not save the initial Central Dunes they set out to, they had successfully protected thousands of acres of habitat for future generations. In an interview shortly after, Dorothy said:
"We were overjoyed. You have no idea of the ups and downs and frustrations we've had since 1952.
…We didn't try any of the Carrie Nation stuff. Instead we worked quietly and persistently.
…I'm proud that the members have worked with a certain amount of dignity to save something so great that its fame is known throughout the world to scientists.
…The worth of the Dunes is comparable to the Grand Canyon. Those who worked for them, stayed with the fight even during hard times because they simply could not let them go.
…even when some people denied the existence of sand dunes along Lake Michigan."

In 1966, the Internal Revenue Service revoked Save the Dunes' tax-exempt status because of lobbying for Dunes legislation. This, along with Dorothy's retirement from the Council in 1967 due to her husband's failing health, helped the Council transform into an increasingly tough and mature political force. That June, Lawrence College welcomed her as a distinguished alumni. The college's president at the time spoke:
"Dorothy Buell, a nation now conscious of the natural beauty of its land honors those who tutored us during years when we often neglected our heritage. You undertook with pioneering courage the work which made possible the newly-created Indiana Dunes National Lakeshore. During 14 arduous years you persisted in finding ways to realize conservationist dreams when others grew weary in their labors. Now all Americans owe you their gratitude…"

The same year, former Secretary of the Interior Stewart Udall presented Dorothy and Paul with the National Wildlife Federation Award. In an interview, Sylvia Troy recalled one of her favorite quotes of Dorothy, "The Save the Dunes Council reminds me of an old man who had two teeth," followed by a significant pause. "But they met."
In late 1968, Dorothy and Hal moved to California to be close to their son. Dorothy died May 17, 1977 in Palo Alto, California. In 1991, Congress authorized the visitor center be memorialized in honor; "In order to commemorate the vision, dedication, and work of Dorothy Buell in saving the Indiana Dunes, the National Park Service visitor center at the Indiana Dunes National Lakeshore is designated as the "Dorothy Buell Memorial Visitor Center."
Bibliography
 March 26, 1904; The Menasha Record, Menasha, WI
 "Churches" ; Page 1  
 May 17, 1905; The Menasha Record, Menasha, WI
 "Commencement Week in Menasha Schools" ; Page 1
 June 16, 1905; The Oshkosh Northwestern, Oshkosh, WI
 "Speak Against Storm" ; Page 11
 June 13, 1905; The Menasha Record, Menasha, WI
 "Senior Class in Histrionics" ; Page 1
 November 11, 1907; The Post-Crescent, Appleton, WI
 "Students' Recital in Chapel Tonight" ; Page 1
 December 14, 1908; Menasha Record, Menasha, WI
 "Menasha Girl is a Member" ; Page 1
 
 March 19, 1908; The Neenah Daily Times, Neenah, WI
 "Menasha Club" ; Page 4  
June 1 1909 The Menasha Record, Menasha, WI
 "Menasha Girl to Take Part" ; Page 1
 September 21, 1909, The Post Crescent; Appleton, WI
 "Harry Sylvester is Football Captain" ; Page 5
 July 7, 1910; Appleton Post, Appleton, WI
 "First District Shows Big Loss" ; Page 6
 October 12, 1910; Menasha Record, Menasha, WI
 "Plan To Attend From Lawrence" ; Page 1
 February 25, 1909; Menasha Record, Menasha, WI
 "Menasha Girl in Difficult Part" ; Page 1 (this was corrected from saying 1922)
 June 2, 1911; Menasha Record, Menasha, WI
 "In The Twin Cities" ; Page 4
 December, 19, 1913, Menasha Record, Menasha, WI
 "Congregational Christmas Night" ; Page 3
 February 9, 1915; Menasha Record, Menasha WI
 No title; Page 1
 November 23, 1915; Menasha Record, Menasha, WI
 No title; Page 4
 June 19, 1918; Neenah Daily Times, Neenah, WI
 "Society" ; Page 2
 June 18, 1918; Menasha Record, Menasha, WI
 "Is the Bride of a Captain" ; Page 1
 Chicago Heights Star August 16, 1938
 "Buell Biography" ; Page 7
 October 27, 1922; Vivian Press, Vivian, OK
 "Utility Men Expect Better Public Relations" ; Page 4
 March 16, 1924; Tulsa Tribune, Tulsa, OK
 "The Third of a Series of Lectures" ; Page 8
 November 13, 1966; Chicago Tribune
 "Mrs. Buell's Fight for Dunes Began in Grandfather's Cottage" ; Page 158
 June 18, 1939; Chicago Tribune, Chicago, IL
 "Flossmoor Fashion Models" ; Page 35
 December 15, 1940; Chicago Tribune, Chicago, IL
 "Crowded Week Scheduled By Homewood Club" ; Page 49  
 March 15, 1959; St. Louis Post-Dispatch
 "Battle to Save the Dunes on Lake Michigan" by Dickson Terry; Page 149
 October 1, 2006; The Times, Munster, IN
 "Buell helped save the Dunes" by Lauri Harvey Keagle ; Page 4
 April 13, 1958; Munster Times, Munster, IN
 "Protect the Forest Preserves and Dunes From Fire Hazard" ; Page 18
 October 22, 2012; The Times, Munster, IN
 "Save the Dunes Celebrates 60 Years" by Lauri Harvey Keagle ; A1  
 July 11, 1976; South Bend Tribune, South Bend, IN 
 "Indiana's Dunes Lakeshore, an unfinished puzzle" ; Page 88
---
The content for this article was written by Joseph Gruzalski, a researcher with Indiana Dunes National Park. Funds were made possible by a National Park Foundation grant. 
Last updated: September 8, 2023