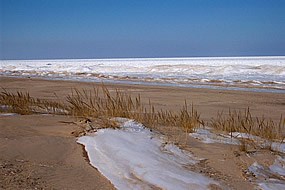 Winter Safety
Do not sled. Due to hidden dangers, often partially covered by shifting sands, sledding, inner-tubing, tobogganing, skiing and snowboarding are prohibited in the park.
Stay off the ice. When frozen, Lake Michigan looks much like the Arctic. Unlike the arctic landscape, the lake ice is full of hidden thin spots and gaps (often further hidden by a layer of snow). Venturing out onto the ice is a sure way to risk death.
Walking on shelf ice is extremely hazardous. Persons falling through hidden holes and weak spots can quickly disappear from view making rescue difficult. Death is likely. Ponds, creeks and other waterways are not monitored for safe ice conditions. Subsurface water flows can create unseen thin areas making these locations unsafe. Access to frozen ponds places wintering animals under additional human-caused stress.
Stay warm. Dress in layers of loose-fitting clothes (including headwear) and keep your feet and hands dry. Minimize exposed skin. Keep an eye on the wind chill to help prevent frostbite. Gently re-warm any waxy-looking skin and seek medical attention.
Dressing properly can also prevent hypothermia. Early signs of this potentially fatal cooling of the body include intense shivering, loss of coordination and confusion. If you see symptoms, seek warmth and immediate medical care. Prime temperatures for hypothermia are actually above freezing between 30-50ºF. Don't hike alone.