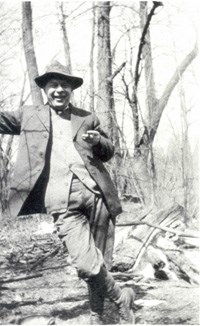 Indiana Dunes National Lakeshore History
The legislation that authorized Indiana Dunes National Lakeshore in 1966 resulted from a movement that began in 1899. Three key individuals helped make Indiana Dunes National Lakeshore a reality: Henry Cowles, a botanist from the University of Chicago; Paul H. Douglas, Senator for the State of Illinois; and Dorothy R. Buell, an Ogden Dunes resident and English teacher. Henry Cowles published an article entitled "Ecological Relations of the Vegetation on Sand Dunes of Lake Michigan," in the Botanical Gazette in 1899 that established Cowles as the "father of plant ecology" in North America and brought international attention to the intricate ecosystems existing on the dunes.
But Cowles' article and the new international awareness were not enough to curtail the struggle between industry and preservation that governed the development of Indiana Dunes National Lakeshore. In 1916, the region was booming with industry in the form of steel mills and power plants. Hoosier Slide, for example, 200 feet in height, was the largest sand dune on Indiana's lakeshore. During the first twenty years of the battle to save the dunes, the Ball Brothers of Muncie, Indiana, manufacturers of glass fruit jars, and the Pittsburgh Plate Glass Company of Kokomo carried Hoosier Slide away in railroad boxcars.
It was this kind of activity by local industry that spurred Cowles, along with Thomas W. Allinson and Jens Jensen to form the Prairie Club of Chicago in 1908. The Prairie Club was the first group to propose that a portion of the Indiana Dunes be protected from commercial interests and maintained in its pristine condition for the enjoyment of the people. Out of the Prairie Club of Chicago came the precursor to the current park: The National Dunes Park Association (NDPA). The NDPA promoted the theme: "A National Park for the Middle West, and all the Middle West for a National Park."