Visiting the Portrait Gallery in the Second Bank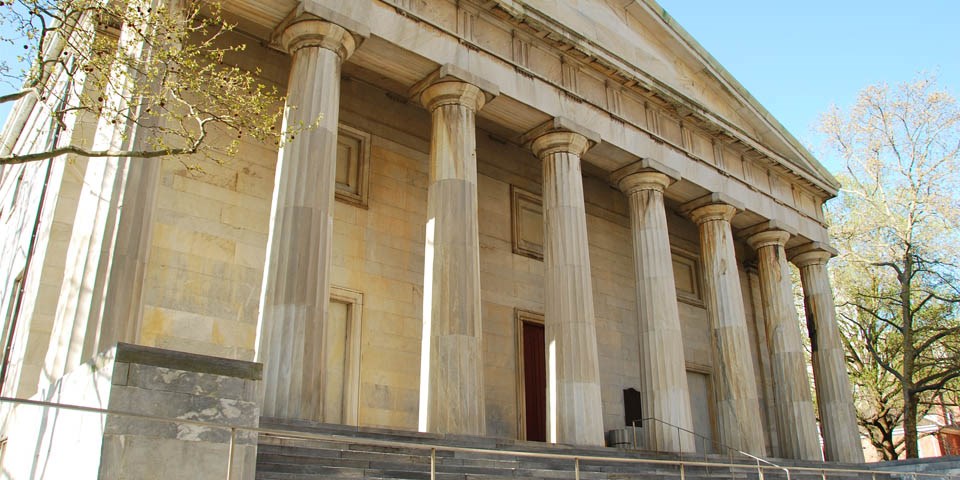 Location
This site is currently closed for a significant preservation project. It's located at 420 Chestnut Street.

Hours and Fees
This building is currently closed. The Second Bank project consists of replacing the 60 year-old copper roof, replacing the 50 year-old wood windows, and stabilizing the 200 year-old stone exterior so that it does not continue to deteriorate and pose a hazard to park staff and visitors. The work is expected to last approximately one year. The building may reopen in late May or early June 2023. Check back in Spring 2023 for updates.
When open, admission is FREE. No tickets are required.
Exhibits
When the site is open, the People of Independence exhibit provides a glimpse into the lives of those who prized order and reason, yet lived in a world marked by disease, slavery, and the fear of the unknown. Portraits by artist Charles Willson Peale form the core of the collection. In the early 1800's, these likenesses of "worthy Personages" were exhibited in Peale's Philadelphia Museum, located on the second floor of Independence Hall. Additional portraits by other artists, particularly a number by British pastel artists James and Ellen Sharples, have been added to the collection through the years.
Accessibility
The Portrait Gallery in the Second Bank is accessible for visitors with mobility impairments. The accessible entrance ramp is located on the west side of the building. The gallery level is reached via elevator. Accessible restrooms are located in the basement near the elevator. Learn more about the
accessibility services
offered throughout the park on our website.
Images and Historical Information
Interested in learning more about the building and the portraits?
Additional information
is available on our website. See the photos below.
Last updated: December 12, 2022