Second Bank of the United States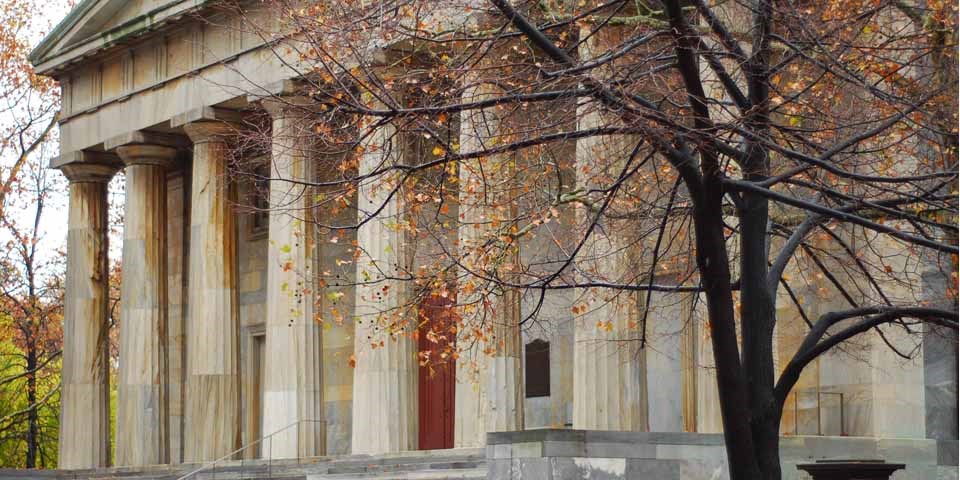 The Portrait Gallery in the Second Bank of the United States, located on Chestnut Street, between 4th and 5th Street, houses the
People of Independence
exhibit. This exhibit includes a permanent collection of over 150 portraits of 18th and 19th century political leaders, military officers, explorers and scientists, including many by noted artist Charles Willson Peale. The building itself once served as a financial hub for the nation as home to the Second Bank of the U.S. Browse our photo gallery to see
images of the building and the exhibits
, and see where fine art, architecture and economic history converge. Learn more about
planning a visit
to the site.
The Portraits
More than 100 portraits by painter Charles Willson Peale form the core of the collection. During the late 18th and early 19th centuries, Peale asked those "worthy Personages" who exhibited the republican virtues of public-spiritedness, self-sacrifice, and civic virtue to sit for him. These portraits, as well as other works by his son Rembrandt and his brother James were once exhibited in Peale's Philadelphia Museum, located on the second floor of Independence Hall. By the time Peale died in 1828, his museum was struggling financially and in 1848, the City of Philadelphia purchased 86 of Peale's portraits at auction. Additional portraits have been added to the collection through the years, including a number by British pastel artists James and Ellen Sharples. View the portrait collection online - and be intrigued by the people you meet.
Architecture
The building itself is a work of art. Designed by architect William Strickland and built between 1819 and 1824, the Second Bank is a fine example of Greek Revival architecture. Strickland looked to the Parthenon in Greece as his muse, borrowing its blank pediments and Doric columns. After the demise of the Bank in 1836, the building changed hands and function, eventually becoming the Custom House in Philadelphia. Alongside these shifts in use came changes to the interior and some of the exterior of the building. Little remains of the building's original interior design except for the barrel vaulted ceiling, the marble columns in the main banking room, and the side flue fireplaces.

The Bank Wars
Chartered by Congress in 1816, the Second Bank played a pivotal role in the "bank wars," which pitted President Andrew Jackson against powerful bank president Nicholas Biddle. President Jackson contended that the Second Bank was unconstitutional and dangerous to republican ideals. In 1832, Jackson's political opponents decided to make the Bank an election issue by forcing an early renewal of the Bank's 20 year charter, but the plan backfired when President Jackson vetoed the bill. By 1836, all of the Second Bank's funds had been transferred to state banks.

Karie Diethorn, Curator at Independence Nat'l Historical Park speaks about Charles Willson Peale's art which is displayed at the Second Bank of the United States.

Duration:

1 minute, 21 seconds
Last updated: January 3, 2022