Junior Ranger for iPhone and iPad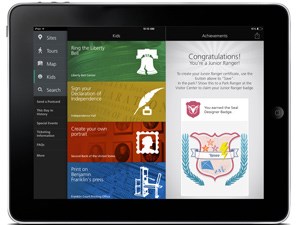 Become a Junior Ranger using your iPhone or iPad and the Independence Jr Ranger app. It's
FREE
. Search "Independence Junior Ranger" in the App Store.
There are five interactive activities for you to explore - Ring the Liberty Bell, Sign your Declaration of Independence, Create your own portrait, Print on Benjamin Franklin's press, and Create your own seal. Complete all five activities to earn your Junior Ranger certificate.
In the park? Show your certificate to a park ranger in the
Independence Visitor Center
for your Junior Ranger badge. (Sorry, badges cannot be mailed).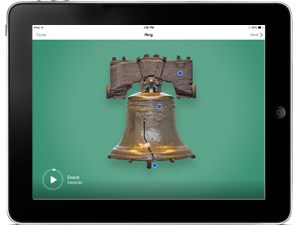 Ring the Liberty Bell
Want to ring the Liberty Bell? Just tilt your iPhone. But first, learn more about the famous crack. Each activity begins with a story. Tap on the blue circles and listen carefully. You may hear these words: Proclaim Liberty Throughout All the Land Unto All the Inhabitants thereof. What does liberty mean to you?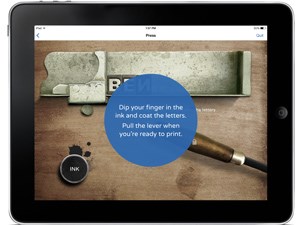 Print on Benjamin Franklin's press
Drag the letters in your name on to the composing stick and then use your finger to coat them with ink. When you're ready, pull the lever to earn your Printer's badge. So, why didn't Ben Franklin just use a computer? Visit the Franklin Court Printing Office to see park rangers print on a reproduction 18th century printing press.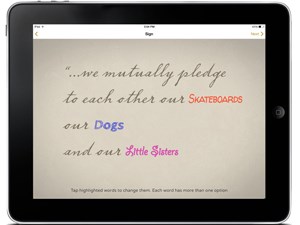 Sign your Declaration of Independence
Personalize your own Declaration and then sign it. The men of the Second Continental Congress pledged to give up what was important to them for freedom. What would you give up for freedom?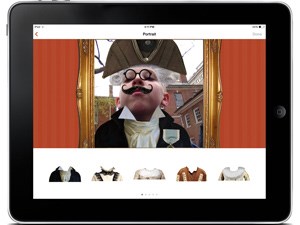 Create your own portrait
Look at Benjamin Franklin's portrait to learn how to uncover clues in a painting. Then choose objects for your own portrait that tell people about you. Maybe you'll choose a fancy dress from long ago, or a park ranger's hat, or even a mustache. Stop by the Portrait Gallery in the Second Bank and you may get some ideas!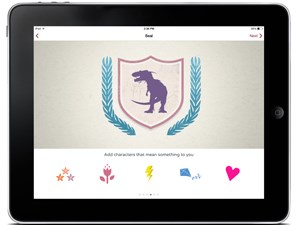 Create your own seal
Learn about the Great Seal of the United States, and then create your own seal. You choose the shield, the characters and even a name. Visitors to the park should look for seals in Congress Hall, Independence Hall, the President's House Site, the Portrait Gallery, and the Benjamin Franklin Museum, just to name a few places.
Last updated: April 8, 2015