Natural Resource Monitoring at Craters of the Moon National Monument and Preserve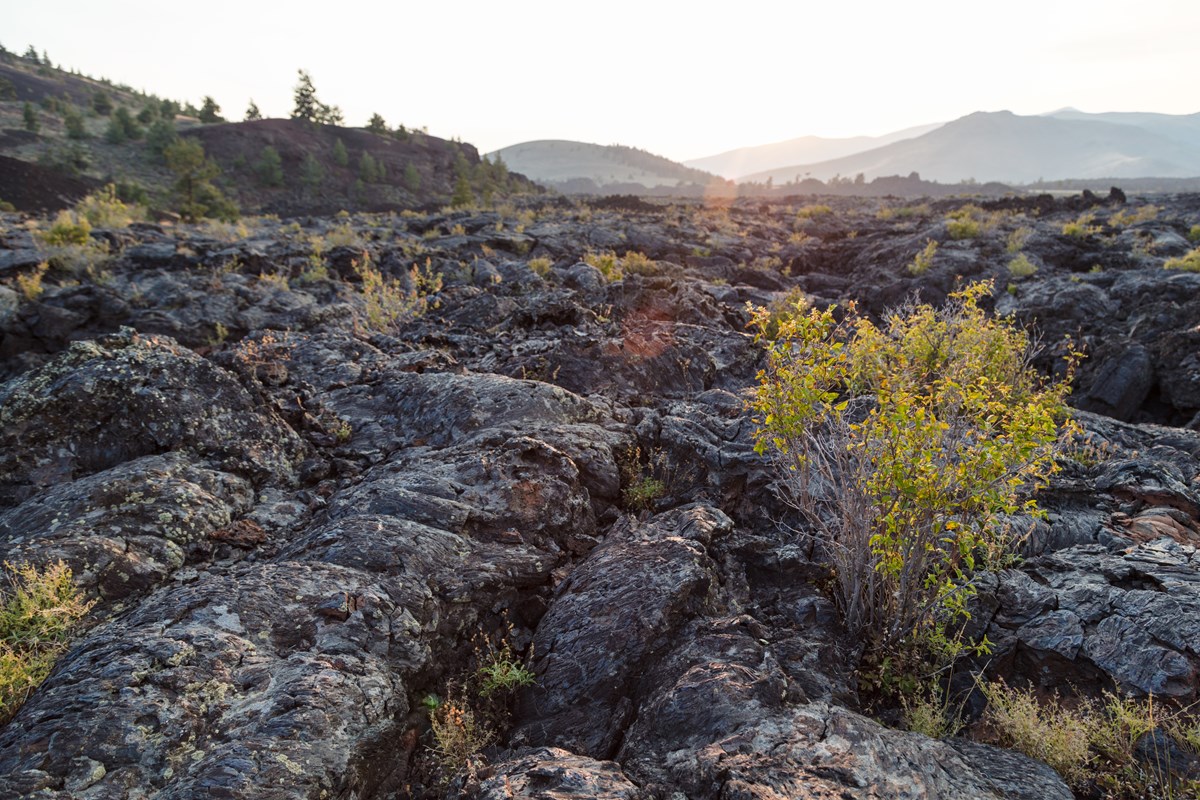 Environmental Setting
The effects of 15,000 years of volcanism are evident throughout Craters of the Moon National Monument and Preserve. The Great Rift, one of the most significant geological areas in Idaho, encompasses about 400 square miles and represents over 60 different volcanic eruptions. The youngest Great Rift lava flows are 2,000 to 2,500 years old. In addition to the unique landscape, Craters of the Moon is well known for its night-sky viewing opportunities. In 2017, it was designated an International Dark Sky Park.

This is a rugged landscape that provides habitat for a surprising diversity of plants and animals in a high desert ecosystem. Preservation of the unique geological and biological features found here is the overriding purpose of the monument.
Key Resources and Issues
Vegetation types range from nearly bare lava fields, to sagebrush steppe shrublands, to upland forests. The area is rich in wildlife, including species of management interest such as the pygmy rabbit, the greater sage grouse, the American pika, several bat species, and a seasonal migration corridor for the pronghorn antelope.
A significant natural resource issue is habitat degradation for sensitive wildlife species; in particular, invasive plant species such as cheatgrass, and the association between wildfire disturbance and the spread of invasive plants. Another issue is whitenose syndrome, a fungal infection that affects bats, especially when they're hibernating. The many lava-tube caves in Craters of the Moon provide hibernation habitat for nine or more bat species. Whitenose syndrome is prevalent in the eastern U.S. and in recent years its movement into western states has been documented. It has not yet been detected in Idaho.

Another natural resource concern is the composition and integrity of native vegetation. Sagebrush steppe vegetation has been heavily affected by invasive species and by conversion to agricultural land. Many of the kipukas—islands of vegetation surrounded by lava flows—in Craters of the Moon represent some of the best examples of native sagebrush steppe vegetation in the West. Healthy sagebrush steppe vegetation supports a broad suite of sagebrush-obligate bird species, from songbirds to sage grouse, as well as small mammal and reptile species.
Publications and Other Information
Inventory Reports
Natural Resource Inventories
Sagebrush Steppe Communities
Resource Briefs
Summaries of fieldwork and findings
Last updated: August 27, 2018