Natural Resource Monitoring at City of Rocks National Reserve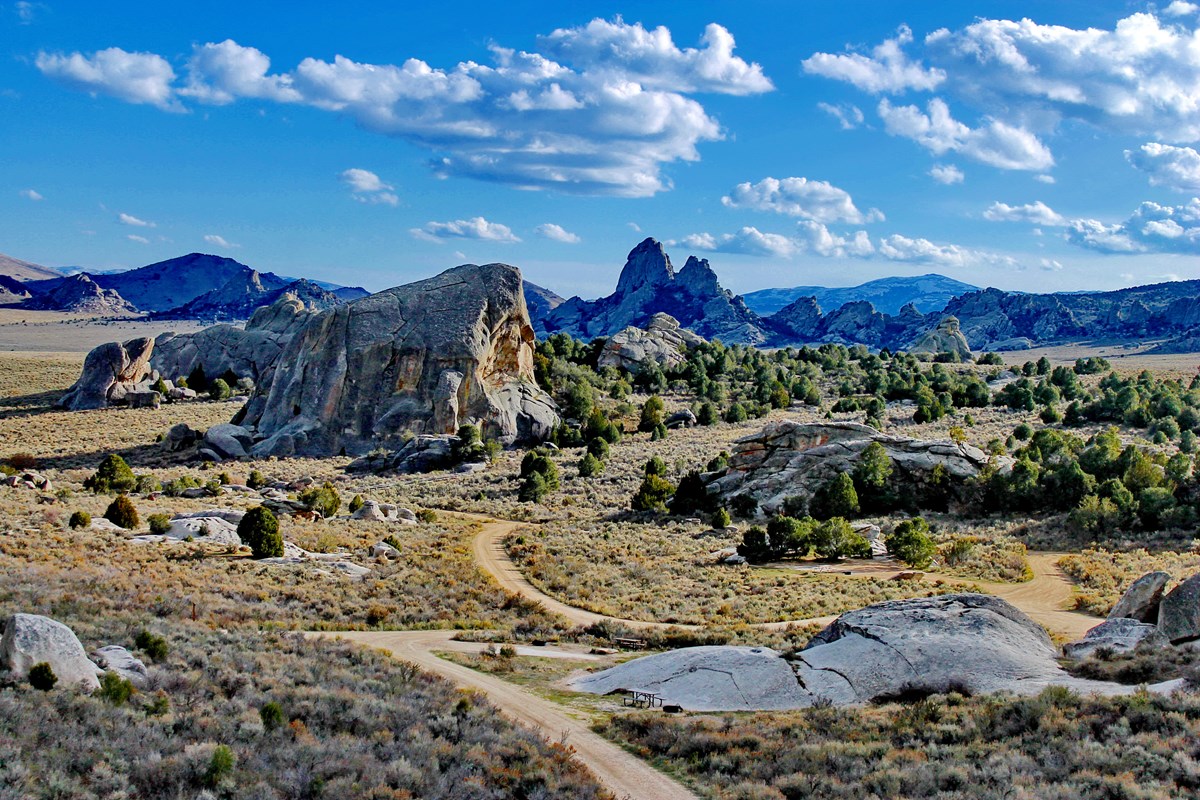 Environmental Setting
City of Rocks, an extraordinary encirclement of granite rising out of the gently rolling sagebrush country in south-central Idaho, has attracted and intrigued people since they first entered this region. The Shoshone camped here, as did the emigrants traveling along the California Trail. One of the reserve's most notable qualities is its large degree of biological diversity concentrated in a relatively small area. The great variety of textures, colors and shapes in the natural landscape contributes considerably to the reserve's scenic quality.
City of Rocks was designated a national natural landmark in recognition of the nationally significant geological and scenic values of its rock formations. The landscape of City of Rocks has been sculpted from granite that was intruded into the crust during two widely spaced times. The granite that composes most of the spires is part of the 28-million-year-old Almo pluton. However, some of the spires are part of the 2.5-billion-year-old Green Creek Complex—which contains some of the oldest rocks in the United States. The granite has eroded into a wondrous array of shapes and sizes.
Key Resources and Issues
City of Rocks National Reserve preserves the most intact and authentic setting of the California Trail. It was an important travel route and place of refuge for Native Americans as well as for emigrants moving west. While renowned for the dramatic scenery created by granite outcrops, the area also supports a diverse array of vegetation types—from grasslands, to sagebrush steppe shrublands, to forest woodlands.
Wildlife and plant species reflect this diversity. The occurrence of three small mammal species—the cliff chipmunk, the pinyon mouse, and the ringtail—represents some of the northern-most extensions of their distributions. The reserve is home to at least 10 species of bats and over 165 species of birds, including sagebrush-obligate species of concern such as the greater sage grouse, the sage sparrow, the Brewer's sparrow, and the sage thrasher. The pinyon-juniper woodlands represent the northern edge of the range for single-leaf pinyon pine and Utah juniper.
The primary issues for natural resource management include invasive plants, wildfire, and land-use practices such as cattle grazing. Invasive plants is a persistent issue that requires continuous management, and the threat can be compounded by disturbances created by wildfire and land-use practices. These disturbances can also affect water quality and aquatic habitat in the small streams within the reserve.
Publications and Other Information
Natural Resource Inventories
Stream Channel Characteristics & Riparian Condition
Sagebrush Steppe Communities
Resource Briefs
Summaries of fieldwork and findings
Last updated: August 24, 2018