Monitoring Natural Resources at Klondike Gold Rush National Historical Park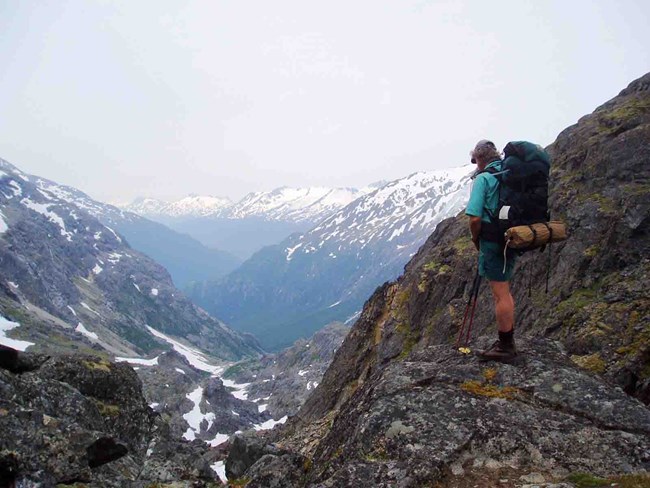 Klondike Gold Rush National Historical Park is mandated to maintain its cultural landscape, defined by the National Park Service as "a geographic area, including both cultural and natural resources and the wildlife or domestic animals therein, associated with a historic event, activity, or person or exhibiting other cultural or aesthetic values." Nearly all cultural landscapes are dependent on park natural resources. It is these interconnected, dynamic systems of land, air, and water, vegetation, and wildlife that differentiate cultural landscapes from other cultural resources, such as historic structures. Thus, their management requires a comprehensive, multidisciplinary approach, including ecological monitoring.
The park includes the Chilkoot Trail and parts of both the Taiya and Skagway valleys, which provide glacier-free mountain passes connecting to the Canadian interior. The Chilkoot Trail passes through a variety of vegetation zones, including intertidal sand flats, coastal meadow, coastal western hemlock/Sitka spruce forest, subalpine montane zone of mountain hemlock-subalpine fir, and alpine tundra at the highest elevations. With subarctic, alpine, boreal forest, northern coastal forest, and marine systems converging, the park hosts species assemblages found nowhere else in the world. Plant diversity is high (nearly 200 vascular plant species), as plant communities transition from wet coastal rainforest to drier interior conditions.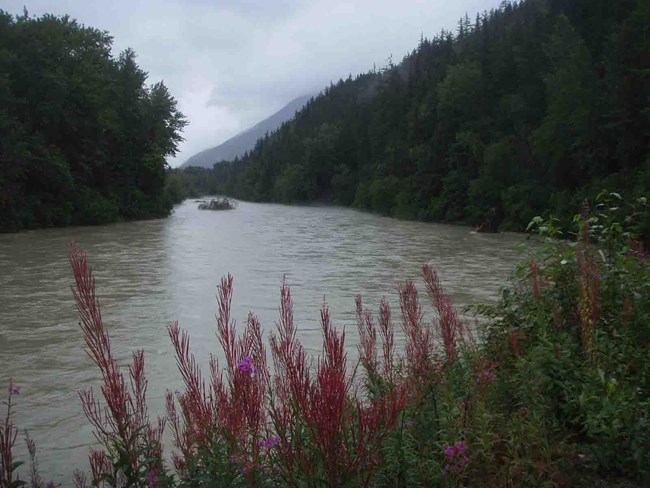 The Skagway and Taiya Rivers carry large amounts of glacial silt, causing the rivers to shift their course frequently as new bars and channels are formed. The Taiya and Skagway Rivers reach two of only three glacier-free passes through the Coast Ranges of Alaska. As a result, Klondike Gold Rush NHP is where the cold interior ecoregion meets the coast. The diversity of plant and animal species in Upper Lynn Canal are the highest in Alaska. Chum, coho, and pink salmon spawn in the lower Taiya River and its tributaries. Resident fish include Dolly Varden char. Thousands of migratory and resident waterbirds and other predators, including Bald Eagles, seals, and sea lions, are attached to the spring eulachon run.

The park contains mountain goats, black bear, and a small population of moose. Brown bears are regularly seen feeding on spawning salmon in the Taiya River. Wolverine, marmot, porcupine, marten, and coyote are also present. Mink, Bald Eagles, and many other birds are found along the saltwater edge. One hundred fifty-eight species of birds have been recorded in the park.
What's Happening in Klondike Gold Rush National Historical Park
Last updated: February 2, 2022