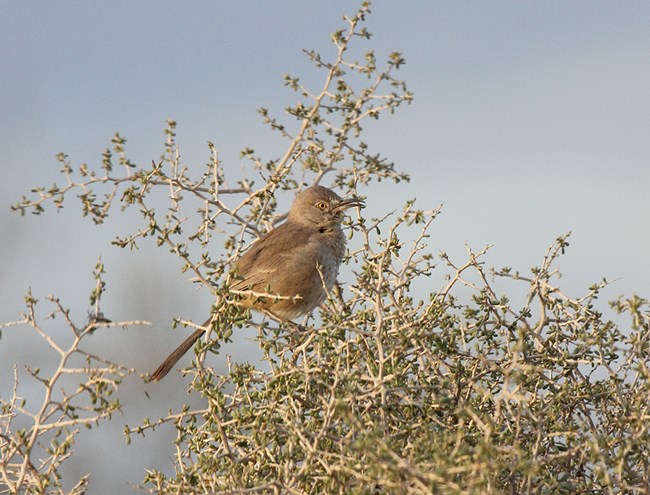 Bird communities are composed of numerous species. Because they are mobile, relatively short-lived, and have specific habitat requirements, birds are sensitive to environmental disturbances. This makes them good indicators of ecosystem health. Long-term monitoring of birds can provide a record of the effects of changes in ecosystem conditions that might otherwise be difficult to detect.
Through a partnership with Northern Arizona University, the Southern Colorado Plateau Network (SCPN) is monitoring bird communities associated with specific habitats in selected network parks. Habitat-based bird monitoring will help to identify associations between bird communities and habitat conditions that can be linked to key drivers and stressors in the ecosystem. In addition, SCPN's bird monitoring study sites overlap with the network's integrated upland monitoring sites. The data collected about vegetation structure and soils can add to our understanding of changes in specific habitat conditions that affect bird communities.
Bird communities in the Southwest face a variety of threats. Changes in vegetation structure and insect abundance brought on by climate change may disrupt habitat use and the timing of migration. The spread of invasive exotic plants and land-use practices, such as livestock grazing and urban development degrade habitats necessary for bird survival. Furthermore, large-scale catastrophic fires have destroyed habitat and transformed large sections of forest in the wake of wildfire suppression during the 20th century. Diseases such as West Nile virus and avian influenza are additional stressors to birds.