Natural Resources at Grand Canyon National Park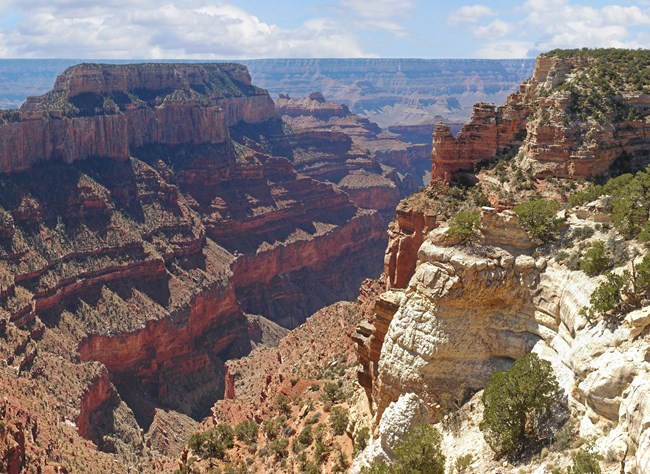 The Grand Canyon National Park encompasses 1.2 million acres in northern Arizona. It is bounded to the north by the Kaibab and Kanab plateaus, which comprise the North Rim, to the south by the Coconino Plateau, which forms the South Rim, to the east by Navajo Nation lands, and to the west by the Lake Mead National Recreation Area.
Initially set aside as a forest reserve in 1893, then designated a national monument in 1908, Grand Canyon NP was established in 1919, and enlarged in 1975. The park was established to preserve and protect the natural and cultural resources, ecological processes, and scenic, aesthetic, and scientific values of an area considered to be one of the natural wonders of the world.
Its horizontal strata reveal the geological history of the past 2 billion years, and within its boundaries are evidence of more than 10,000 years of human habitation. In 1979, Grand Canyon NP was named a World Heritage Site in 1979.
Grand Canyon NP is the most biologically diverse in the Southern Colorado Plateau Network (SCPN), and encompasses 129 vegetation communities which cover 1750 species of plants. The great diversity of plant communities and ecosystems within Grand Canyon NP support a wide variety of vertebrate and invertebrate wildlife, including 315 bird, 88 mammal, 50 reptile, 8 amphibian, 21 fish, and thousands of aquatic and terrestrial invertebrate species.
Water resources within the Grand Canyon NP include 277 miles (445 km) of the Colorado River, 112 miles (181 km) of perennial streams, numerous lakes, tinajas, and springs and seeps. The air quality at Grand Canyon NP, which affects the quality of the visual scene, is some of the cleanest in the United States and has been designated a Class I area under the Clean Air Act.
Monitored Here
---
---
Species Lists
Select a Park:
Select a Species Category (optional):
Search results will be displayed here.

Visit NPSpecies for more comprehensive information and advanced search capability. Have a suggestion or comment on this list? Let us know.
Life Zones
Grand Canyon has the largest elevation range of all units in the Southern Colorado Plateau Network, ranging from a low of 1,141 feet (348 m) at the Colorado River to a high of 9,177 feet (2,798 m) on the North Rim. The park includes three of the four North American deserts and spans five life zones: Warm Desert, Semi-Desert Grassland/Shrub Steppe, Pinyon-Juniper Woodland, Ponderosa Pine Forest and Mixed Conifer Forest. Annual precipitation also varies widely with elevation. Phantom Ranch, on the river, receives 9.3 inches (238 mm) while areas along the higher North Rim can receive in excess of 20 inches (>508 mm).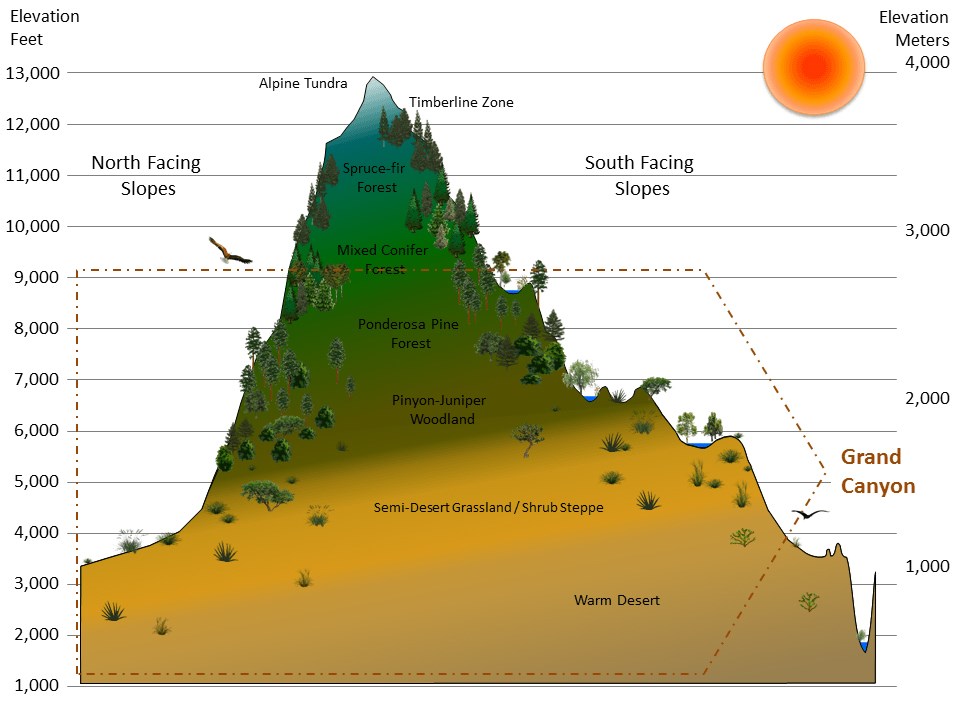 Climate Summary Chart
Charts are an effective way to summarize and graphically represent climate variables. The following chart is based on the diagrams developed for vegetation studies by Walter and Lieth in 1967. Visit our climate page for more information.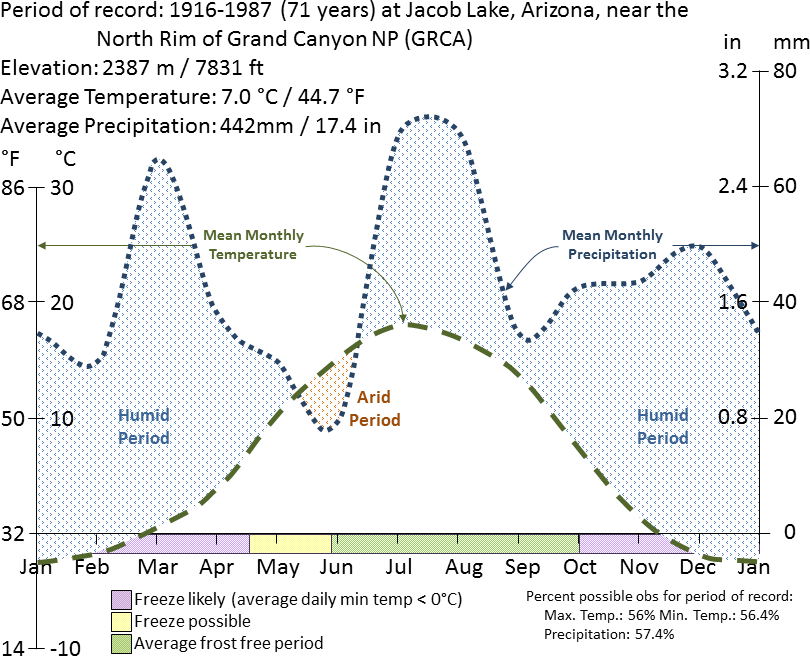 Reports & Publications
Inventories are point-in-time surveys that help us learn about the resources in our parks. Information obtained through the Southern Colorado Plateau Network's inventories of park resources helped to establish a base level of data, which has served as a starting point for our natural resource monitoring.
Our monitoring reports provide the most recent published findings from our field work.
Protocols describe how we monitor. They include a descriptive narrative of what we monitor and why, our field methods, how we analyze and manage our data, and more. All of our protocols are peer reviewed.
Last updated: October 21, 2022