Natural Resources at Petrified Forest National Park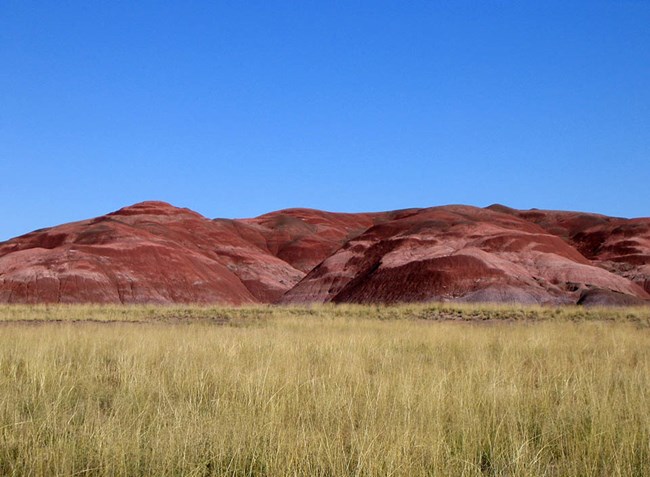 Petrified Forest National Park encompasses 218,533 acres (88,437 ha) in east central Arizona. It was initially established as a national monument in 1906 to protect geologic resources from the Triassic Period. Plant and animal fossils and petrified wood from the park, dating from the Triassic Period, are considered some of the most valuable paleontological resources in the world. Subsequent proclamations expanded both the area of the park and its scope to include cultural as well as natural resources. It was declared a national park by an act of Congress in 1962.
Petrified Forest NP, located on the southern edge of the Colorado Plateau, is comprised of high desert plateaus and grasslands. The Painted Desert in the northern third of the park is sparsely vegetated. A relatively narrow section of land runs across the middle section of the park through the Puerco River Valley. Mixed shrubs and grasses of a shortgrass prairie ecosystem dominate here, one of the few areas where native Arizona grasslands have made a recovery from past grazing practices. In the southern third of the park, shortgrass prairie and desert shrubland are interspersed with barren lands.
Petrified Forest NP supports 7 species of amphibians, 231 species of birds, 44 species of mammals, and 16 species of reptiles. Most of these species depend on the sparse intermittent washes, springs, seeps, tinajas, and tanks in the park. Ephemeral flow in the Puerco River supports a riparian community dominated by cottonwood and tamarisk.
Petrified Forest is a Class I park under the Clean Air Act. The dry climate contributes to the low air pollution levels so that mountain peaks over 160 kilometers away are often visible from the Park.
Monitored Here
---
---
Species Lists
Select a Park:
Select a Species Category (optional):
Search results will be displayed here.

Visit NPSpecies for more comprehensive information and advanced search capability. Have a suggestion or comment on this list? Let us know.
Life Zones
Petrified Forest National Park ranges in elevation from 5,307 to 6,262 feet (1,618–1,891 m) and spans the Semi-Desert Grassland / Shrub Steppe and Pinyon-Juniper Woodland life zones. Most of the park is relatively flat and at lower elevation, so pinyon-juniper trees are only found on the slopes of Chinde Mesa on the north boundary of the park. Petrified Forest experiences an average annual precipitation of 9.6 inches (342 mm).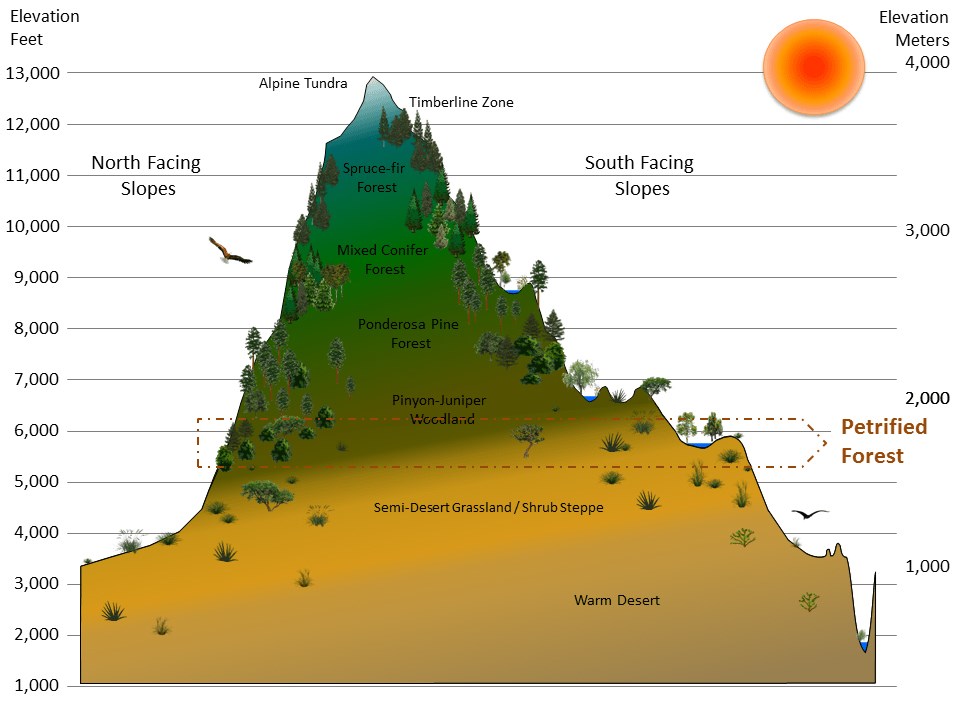 Climate Summary Chart
Charts are an effective way to summarize and graphically represent climate variables. The following chart is based on the diagrams developed for vegetation studies by Walter and Lieth in 1967. Visit our climate page for more information.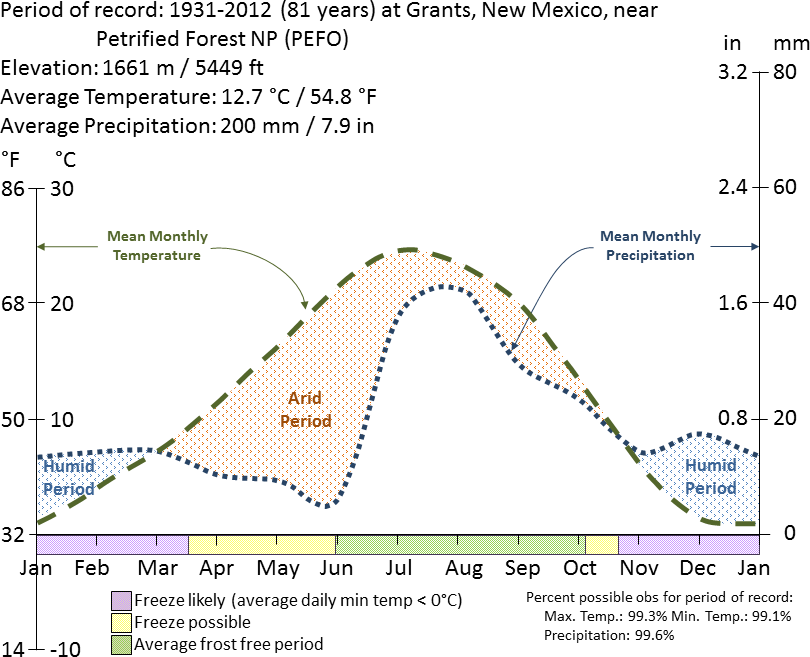 Reports & Publications
Inventories are point-in-time surveys that help us learn about the resources in our parks. Information obtained through the Southern Colorado Plateau Network's inventories of park resources helped to establish a base level of data, which has served as a starting point for our natural resource monitoring.
Our monitoring reports provide the most recent published findings from our field work.
Protocols describe how we monitor. They include a descriptive narrative of what we monitor and why, our field methods, how we analyze and manage our data, and more. All of our protocols are peer reviewed.
Last updated: November 6, 2018