Breeding Landbird Monitoring in Northeast Temperate Network parks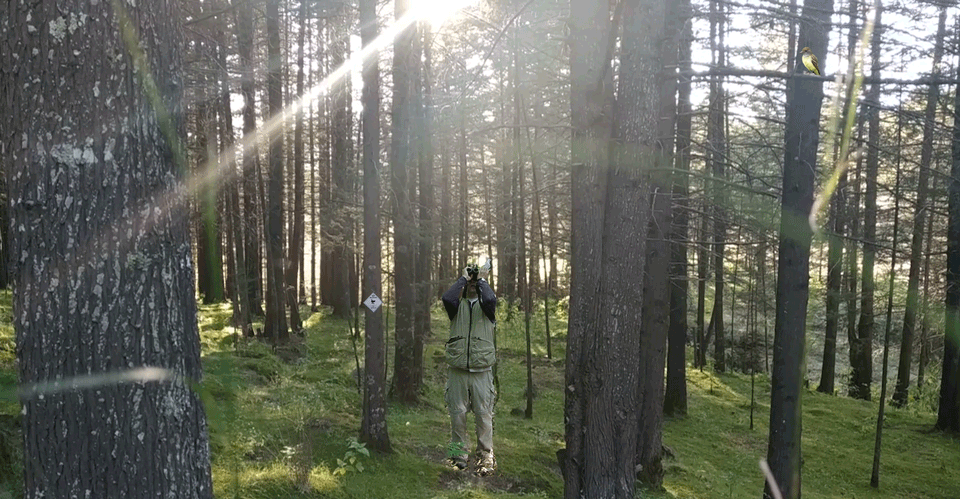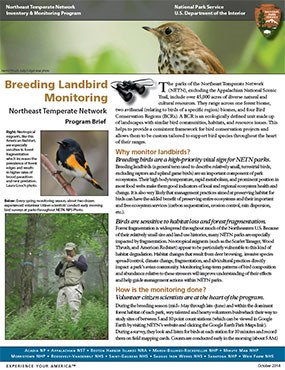 Overview
This is a volunteer-based, long-term monitoring program for forest breeding birds. Grassland bird monitoring also takies place at parks where this is significant habitat (currently Saratoga NHP and Minute Man NHP).

Birds are important components of park ecosystems. It has been suggested that management activities aimed at preserving habitat for bird populations can have the added benefit of preserving entire ecosystems. Birds are also very popular among park visitors, and many parks provide information on the status and trends of their avian community through interpretive materials and programs.

Learn more about volunteer bird monitoring opportunties here.
Appalachian Trail Bird Monitoring
Mountain birds, a specific category of breeding birds, are a primary interest of A.T. resource managers. Mountain birds are dependent upon montane spruce-fir forests, an uncommon habitat type in northern New England. Though rare in the region, it is the dominant forest type along approximately 225 kilometers (140 miles) of the trail in Vermont, New Hampshire, and Maine. Partnering with existing forest, mountain, and other bird monitoring programs provides an opportunity to make inferences about A.T. resources from beyond the trail corridor. This is critically important for A.T. because activities and actions that happen on adjacent lands exert a greater influence on the relatively narrow ribbon of land that comprises the trail than might be the case for parks with greater land area to perimeter ratios. An example of a regional monitoring effort that combines A.T. interests with those on adjacent lands is the partnership with the Vermont Center for Ecostudies to implement a mountain bird monitoring protocol to help guide management decisions affecting bird populations inhabiting high elevation habitats.
Northeast Temperate Network Breeding Landbird Monitoring Materials
Click on the links below to view protocols, reports, briefs, and other materials
Northeast Temperate Network Breeding Landbird Monitoring Sites
Northeast Temperate Network Staff Contacts for Breeding Landbird Monitoring
Program Manager:
Aaron Weed
Data Manager:
Adam Kozlowski
Landbird Monitoring Coordinator:
:
Ed Sharron
Landbird maps - please click "view full screen"
Last updated: September 13, 2023