Air Quality Monitoring in Northeast Temperate Network Parks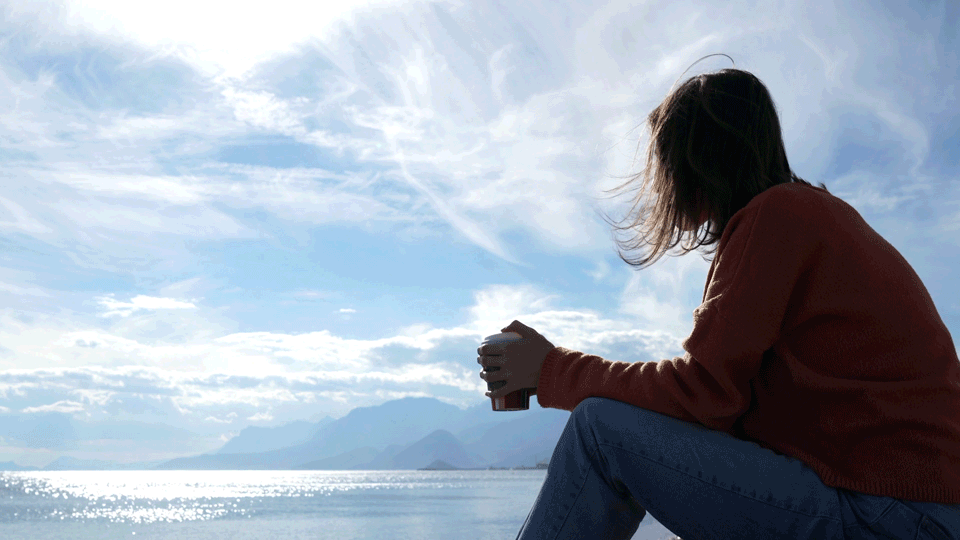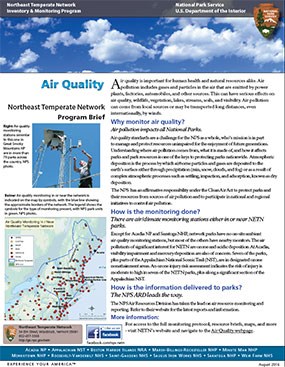 Overview
Air quality affects scenic and natural resources in national parks, including lakes, streams, plants, and wildlife. Protecting air quality in the National Park System is a complex task that includes active research and long-term monitoring.
The NPS Air Resources Division works with a number of partners to sample air quality in parks, including the Environmental Protection Agency, National Atmospheric Deposition Program, and the Interagency Monitoring of Protected Environments. Learn more about air quality in parks here.
Appalachian Trail Deposition Effects Study
High elevation and ridge-top ecosystems along the Appalachian Trail corridor are very sensitive to acidic deposition. Air pollutants emitted by power plants, industry, vehicles, and agriculture can contribute to acidic deposition to forests, soils, streams, and lakes. Effects include forest die-back and streams that are no longer able to support certain sensitive species of fish. The AT MEGA-Transect Deposition Effects study will evaluate the condition and sensitivity of the Trail with respect to acidic deposition by investigating current impacts and identifying deposition "critical loads" (the amount of acidic deposition below which deleterious effects are not expected). The study will also predict the time needed for ecosystem recovery under future deposition scenarios. The project is led by scientists from US Geological Survey (USGS), USDA Forest Service (USFS), universities, and private companies, and is began in the spring of 2010.
Objectives
Key objectives include the development and refinement of thresholds for ecosystem effects from acid deposition, and the development of critical loads for acid deposition. Identifying ecological threshold values that are specific to AT soils, forests, and streams will result in more accurate critical loads, allowing for improved assessments of current and future ecosystem health. Defining critical loads will also enable NPS to set meaningful air quality management goals to ensure protection of the AT.
Background
The AT MEGA Transect Deposition Effects study is supported by funds provided to the National Park Service (NPS) by American Electric Power (AEP), an operator of coal-fired power plants in the Ohio Valley. In 2008, AEP made a donation to NPS for the restoration of land, watersheds, vegetation, and forests affected by air pollution emitted by AEP power plants. The regional scope of the AT MEGA Deposition Effects study includes affected Class I air quality areas, including Shenandoah and Great Smoky Mountains National Parks, and surrounding national forests. Additional park-specific AEP projects will target local issues related to ecosystem restoration and pollution control or prevention.
Discussion
This study will identify and assess acid deposition-sensitive ecosystems along the AT. Information from the study will be used by the NPS to develop air quality management goals for the long-term protection of the AT. Outreach efforts will promote awareness and understanding of the deleterious effects of acidic deposition to state and federal air quality management agencies, scientific forums and the stakeholder community. The study will also provide information to allow the assessment of the success of current air quality improvement strategies. The AT MEGA-Transect Deposition Effects Study also demonstrates the value of the AT for monitoring environmental change across a large geographic region, supporting an ongoing multi-agency initiative with professional and citizen scientists that includes the NPS, USFS, USGS, and the non-profit Appalachian Trail Conservancy.
Methods
The project plans a three-tiered sampling approach with various levels of sampling intensity: 12 Level I sites (most intensive), 50 Level II sites, and 200 Level III sites. Level I sites will include sampling of: (1) atmospheric deposition, (2) soil chemistry, (3) water chemistry, (4) wood tissue chemistry, (5) tree ring cores to assess growth, and (6) composition of understory vegetation. Level II sites will focus on soil and water chemistry samples; Level III sites will sample water chemistry only. Citizen scientist volunteers will be utilized to assist with data collection efforts.
Northeast Temperate Network Air Quality Monitoring Materials
Click on the links below to view protocols, reports, briefs, and other materials
Last updated: September 13, 2023