Inventory & Monitoring at Fire Island National Seashore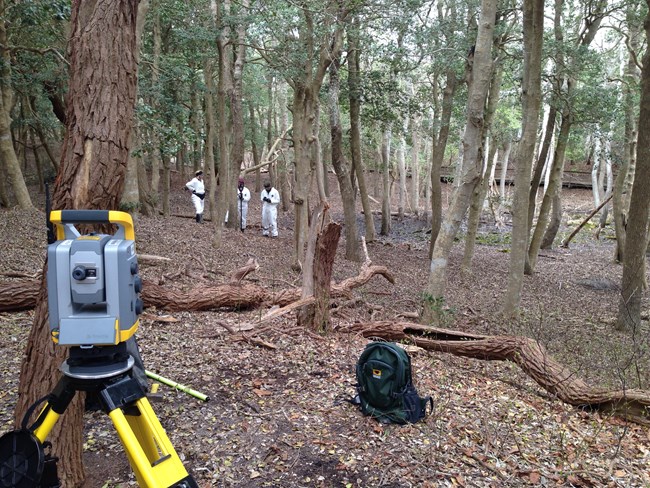 Fire Island is a barrier island located along the southern coast of Long Island, New York. Approximately 51 km long and averaging about 0.5 km in width, the island is bordered by the inlets of Fire Island to the west and Moriches to the east and is separated from Long Island by the Great South and Moriches Bays. Under Public Law 88-587, Fire Island National Seashore (FIIS) was established on September 11, 1964, "for the purpose of conserving and preserving for the use of future generations relatively unspoiled and undeveloped beaches, dunes and other natural features (NPS 1999). The Fire Island National Seashore consists of 42 km of Fire Island itself. The Seashore is7,832 hectares, not including Smith Point County Park located at the eastern end within the boundaries of the National Seashore. Approximately 4,300 hectares of the Park are submerged in the Great South Bay or Atlantic Ocean. The Smith Point County Park (from Smith Point West to Moriches Inlet) falls within the boundary of the National Seashore but is administered by the Suffolk County Park Commission. Robert Moses State Park, on the western end of Fire Island, is not within the authorized boundary of FIIS and is managed by the Long Island State Park Regional authorities.

Natural resource management at FIIS deals with extremes in land use issues within the park. The only federally designated wilderness in the state of New York and in National Parks of the Northeastern United States is found on eastern Fire Island, between Smith Point and Watch Hill. On the hand, seventeen private resort communities comprising approximately 4,000 homes, lie within the administrative boundary of FIIS on the western end of the island. The presence of these communities complicates management in the park. These communities are accessed either by boat across the Great South Bay or by vehicle via the Robert Moses Causeway. Annual visitation to the National Seashore exceeds 1 million.

The physiognomy of Fire Island is typical of Atlantic barrier islands that grade from a primary dune along the ocean to salt marsh along the bay. The dominant vegetation includes pitch pine (Pinus rigida), beach grass (Ammophilia breviligulata), wax myrtle (Myrica cerifera), bayberry (M. pensylvanica), shadbush (Amelanchier canadensis), and common greenbrier (Smilax rotundifolia). This particular composition of vegetation is typical of the island except within the various communities where residents have planted non-indigenous vegetation.

The percentages of terrestrial habitats found at FIIS include: 10% forested and 40% wetlands, 25% open (beach, swale and fields), 25% developed either by NPS or the 17 local communities on the island. Of the submerged portion, 80% is in Great South Bay and 20% is the Atlantic Ocean. All existing habitats within FIIS are listed as threatened. Unique Resources include the Sunken Forest that is a maritime Holly Forest; a Federal Wilderness Area (520 hectares); and eel grass beds. The Sunken Forest on Fire Island is a 16 hectare maritime oak-holly forest occurring behind the secondary dune, one of only a few mature maritime forests in the New York area and the northernmost holly dominated maritime forest on the Atlantic barrier island chain. The Nature Conservancy lists this community type as globally imperiled (G2). Both Federal and NYS Endangered species either breed or germinate in the park, as well as eleven species of concern.. The William Floyd Estate (FIIS-WFE), located across Great South Bay on Long Island mainland, is quite different from FIIS's barrier island habitat. The William Floyd Estate is 65% forested, 25% wetlands including salt marsh, 5% open space and 5% developed around the estate house area. Species found at FIIS-WFE include great blue herons, great and snowy egrets, willets, and diamond-backed terrapins. The following is a list of current park management issues faced at the park.
Threatened/endangered species and rare species management: There is a need for more extensive research and species zone delineation to protect R, T and E animals and plants and a need for direct habitat restoration activities. Issues include prevention of recreational stress on vegetation species, many species of which are threatened or endangered and monitoring disturbance of endangered and threatened vegetation.


Wildlife and habitat health: Re-inventorying FIIS fauna to update and identify distribution and impact type issues is needed. Other issues include managing deer overpopulation due to recreational feeding of deer; preventing the spread of Lyme disease to visitors; preventing over browsing of vegetation by deer; maintaining good water quality for finfish and shellfish nursery habitat. Also, recreational and commercial fishing survey is needed to determine impacts on the finfish population.
Aquatic resources: The chemical and biological condition of FIIS salt water estuaries is unknown. State fisheries data indicate finfish and shellfish populations are stressed due to pollution and degradation of habitat near FIIS. Identifying impacts to aquatic resources possibly due to channel and marina dredging and pollution from community marinas is needed.
Air resources: There is a general lack of knowledge regarding air quality on FIIS; monitoring is needed.
Recreation and visitor use impacts: Issues include preventing primary dune vegetation loss due to pedestrian and vehicle disturbance; controlling the extent of human disturbance on plant species in sensitive areas such as The Wilderness Area and the Sunken Forest and controlling the use of personal watercraft due to aesthetic impacts.
Impacts to aesthetic resources: Aesthetic concerns include structures, bulkheads, groins, beach scraping and barrier island uses
Lateral sand transport: Bottom dredging of the marina channels disrupts bayside lateral sand transport. The groins on the Ocean Beach impact lateral sand transport on the ocean side. Extensive study of sand transport on FIIS is needed.
Mosquito management: The extent of public threat due to Eastern Equine Encephalitis at areas on FIIS is being investigated and there is a need to determine the applicability of open water marsh management to decrease mosquito populations.
Adjacent landuse: Determining impacts of water quality due to heavily populated region
Exotic species management: The dominance of exotic species on Fire Island is not being studied sufficiently. Preliminary studies suggest exotics plant in the private communities on FIIS may be encroaching onto federal lands (i.e. bamboo). Also phragmites continues to increase in the marsh areas if the Wilderness.
Shoreline change: There is a need to continue to monitor shoreline change to determine the extent of change seasonally and after unusually strong storms
Saltmarsh restoration: Monitoring and research is required to determine if passive restoration is the best action at this time.
Last updated: December 7, 2018