History of the Sport Shirt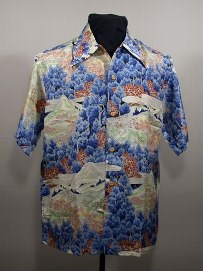 Men's sportswear became popular in the 1930s with the adoption of the knit polo, crew-necked t-shirt, and short sleeved sport shirt. The new styles offered men alternatives to formal suits and all three became classics. At the same time, steamship travel to Hawaii boomed, creating a market for island souvenirs. Shirts and other items were brought back to the mainland by vacationers as well as servicemen who were stationed on the islands.
Chinese and Japanese immigrants to the islands owned the majority of the tailoring shops and used traditional fabrics, such as kimono silks, to make the first short sleeved, casual "Hawaiian" shirts in the early 1930s. In 1937, the name "Aloha Shirt" was trademarked.
After World War II, fabric and trimming restrictions were lifted and a swing away from the unadorned look of war-time occurred. Sportswear manufacturers took advantage of the post-war availability of silk and rayon and created shirts in bright colors. Men were ready to shed the uniformity of early 1940s clothing and replace it with more casual, loose-fitting and sometimes flamboyant garments. By 1950, the tropical sport shirt was being adopted by Americans from coast to coast.
In February 1953, Good Housekeeping described the man's sport shirt as "any shirt that is loose cut and straight; in most instances it has no stiffening in the collar, and it's a comfortable, informal garment." The shirts featured a convertible collar that could be worn spread open at the neck or buttoned and worn with a tie. A variety of patterns were used either in an all-over manner or as a border print, framing either side of the button placket. Patterns included Polynesian motifs, florals, mountain scenes, plaids, checks and abstract geometric designs.
Harry Truman's adoption of the tropical print shirt only helped to further boost its popularity. Other celebrities, such as Bing Crosby, also popularized the trend.
Last updated: April 10, 2015