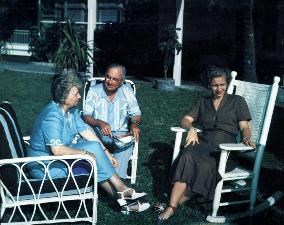 Harry Truman unexpectedly became president with the death of Franklin Roosevelt in April 1945. He spent the next year bringing World War II to an end and focusing on post-war reconstruction. The stress took its toll on Truman's health. His doctor, Wallace Graham, ordered him to get some rest and in November 1946 Truman took his first "working vacation" to Key West, Florida. A quiet locations was found at the Naval Base in Key West, Florida.
At first Truman did not adopt the dress of the locals, continuing to wear dress shirts and slacks, even on fishing excursions. However, he soon realized the benefit of more comfortable, lightweight sport shirts and regularly wore them in Key West. The look eventually became what he and his staff referred to as the "Key West Uniform."
On Truman's fifth trip to Key West in November 1948, Ben Bloom, president of Miami-based Royal Palm Sportswear, sent Truman four brightly patterned sport shirts, including one with a stylized bird design. Some questioned whether the president would wear the non-conservative shirts, but for four consecutive days, he was photographed in them, causing a lot of comment.