Volunteer Opportunities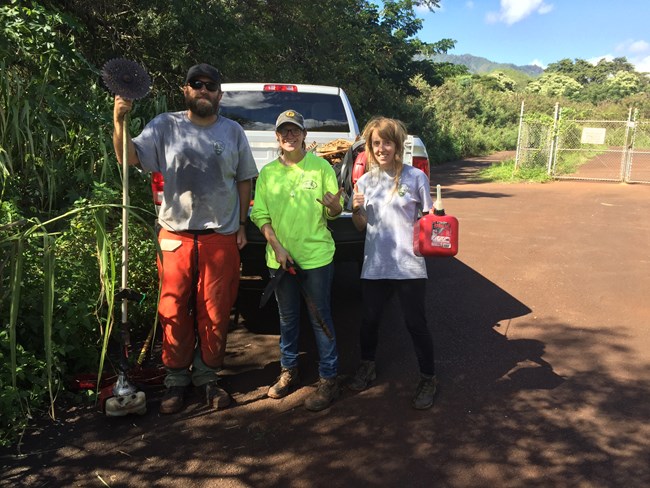 Volunteers Needed - Two Unique Opportunities!
Site Maintenance

Purpose of Position/Project:

Having just been designated in February of 2015 – Honouliuli National Historic Site is one of the newest units of the National Park Service. Although once an extensive camp which held hundreds of civilian incarcerees and thousands of POWs, what remains today is an archeological site strewn with abundant artifacts and features (buried and exposed), and overgrown with thick vegetation. In order to assist in the preservation of these sensitive resources, Honouliuli National Historic Site is seeking volunteers to help with cyclic vegetation clearing and sediment removal. This is a unique opportunity to visit, learn about, and care for Hawai'i's newest national historic site, while planning is ongoing and the site is not open to the public.

Description of Duties:

The primary goal for our volunteer program is to clear and maintain vegetation overgrowth from key resources, (including building foundations, and a historic aqueduct system) -- as well as to clear vegetation along a historic road bed alignment. Work will include the use of hand and power tools to clear vegetation in approved areas, following protocols established by NPS resource preservation specialists, and could include shoveling sediment and/or hauling wood. Use of power tools includes weed whackers, leaf blowers, chainsaws (pending training), and hand tools such as shovels, rakes, hedge trimmers, trowels and brooms.

Qualifications/ Eligibility:

Work will take place outdoors and working conditions will be variable. Volunteers will need to dress appropriately for the work and weather, including work gloves, long pants, long sleeved shirts, eye protection and sturdy shoes/ boots, etc. Work involves navigating through uneven, potentially rocky and/or wet, slippery terrain. Potential hazards include exposure to stratchy or thorny vegetation, biting or stinging insects, spiders, allergens and other hazards typical of outdoor work environments. Moderate to strenuous physical exertion should be anticipated. Volunteers should plan to bring and drink plenty of water to avoid dehydration, and protect against exposure to the elements (i.e. sunscreen, hat, protective clothing) and take as many breaks as needed. Work will involve crouching, bending over, and lifting (proper bending and lifting techniques should be practiced) and volunteer must perform all tasks in a safe manner using the appropriate tools for the task, and wearing necessary protective gear. Volunteers will be required to attend a pre-work orientation which will cover safe handling of tools (including maintaining a "safety circle") and to learn about required protocols/ techniques to prevent resource damage.
Oral History Translation and Transcription (Japanese-English)

Purpose of Position/Project:

Critical to planning and management as well as a future interpretive program, Honouliuli staff and partners are working to build a robust historical record for Honouliuli National Historic Site. One of the most critical sources of information that we are working to capture comes from conducting oral history interviews with local community members and other individuals who have a personal association with Honouliuli or Hawai'i during WWII. As part of this process, we need to transcribe interview dialogue to ensure that historical information is accessible to staff, project partners and (depending on the interviewee's preference), the general public. For this purpose, we are currently seeking volunteers to transcribe completed interviews.

Description of Duties:

Listening to interviews and typing out the dialogue. The volunteer coordinator can provide you with information on how to format the transcription and notate timestamps.

Qualifications/ Eligibility:

You must be fluent in English and have a strong understanding of Japanese. You must also possess a laptop computer with a disc drive (to listen to audio files) and word processing software, like MS Word.
Apply/Learn More:

If you're interested in learning more about these opportunities, please send an email with 'Volunteer' in the subject line to: pwr_honouliuli@nps.gov. Your email will be forwarded to our volunteer coordinator.
Last updated: February 17, 2023