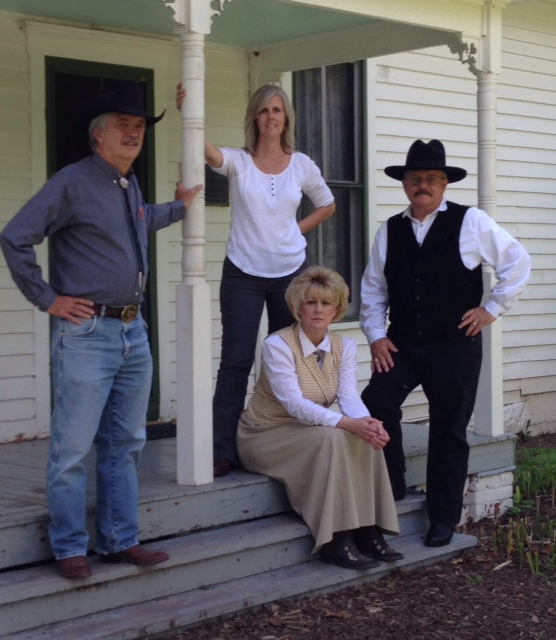 News Release Date:
June 2, 2016
Take a literary ride with the Most Intrepid Western Author's Posse as they travel through the Great Plains of Nebraska and visit Homestead National Monument of America's Education Center on Saturday, June 11, 2016, from 11 am –1 pm. The Most Intrepid Western Author's Posse is comprised of five published, award-winning western authors who love to tell exciting tales of the Old West –some true, some with a twist. They include:
Monty McCord author of Mundy's Law: The Legend of Joe Mundy and Hastings: The Queen of the Plains;
Sherry Monahan author of Mrs. Earp: The Wives and Lovers of the Earp Brothers,The Cowboy Cookbook, and Frontier Fare;
Bill Markley, author of Deadwood Dead Men and Dakota Epic: Experiences of a Reenactor During the Filming of Dances with Wolves;
Kellen Cuts forth, author of Buffalo Bill, Boozers, Brothels, and Bare-Knuckle Brawlers: An Englishman's Journal of Adventure in America;
Chris Enss, author of Frontier Teachers: Stories of Heroic Women of the Old West,Hearts West: Mail Order Brides of the Old West,and Object Matrimony: The Risky Business of Mail-Order Matchmaking on the Western Frontier. 
Stories told by the Posse promise to transport readers back to the days of the wild frontier when times were rowdy and justice was swift. The Posse will be discussing their books and the taming of the Wild West. Their books will be for sale through the Homestead Bookstores and the authors will be available to sign them. For more Posse information, visit www.chrisenss.com.
Remember, Homestead National Monument of America has an exciting schedule of events planned for 2016. Keep up with the latest information by following us on Twitter (HomesteadNM) and Facebook (Homestead National Monument of America).
Homestead National Monument of America is a unit of the National Park Service located four miles west of Beatrice, Nebraska. Hours of operation are 8:30 a.m. to 6 p.m.daily through Labor Day. Admission is free of charge. For additional information, please call 402-223-3514 or visit https://www.nps.gov/home/index.htm.

Suggested caption:The Most Intrepid Western Author's Posse's first Nebraska stop will be in Beatrice at Homestead National Monument of America on Saturday, June 11 from 11 a.m. –1 p.m. On Sunday, June 12 the Posse will be at the Stuhr Museum in Grand Island from 3 p.m. –5 p.m