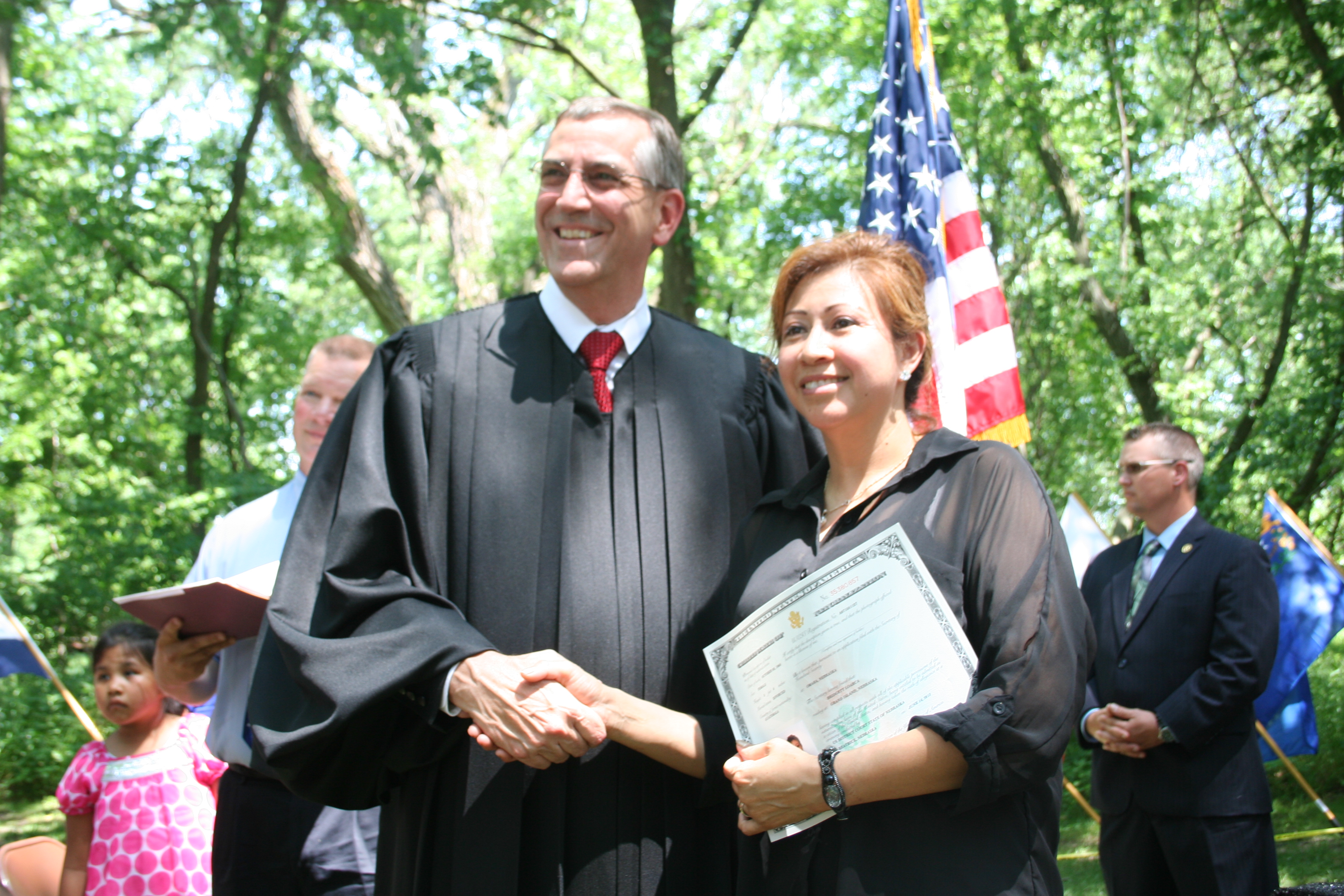 News Release Date:
June 8, 2016
Homestead National Monument of America is honored to host a United States Citizenship and Naturalization Ceremony on Tuesday, June 14, 2016. New citizens will take their Oath of Allegiance to the United States at the ceremony. The ceremony will take place at 2 p.m.in the Education Center's Courtyard. The public is encouraged to attend. 
Naturalization is the process by which U.S. Citizenship is conferred upon foreign citizens or nationals after fulfilling the requirements established by Congress. After naturalization, foreign-born citizens enjoy nearly all the same benefits, rights and responsibilities that the Constitution gives to native-born U.S. Citizens, including the right to vote.
This year Homestead is honored to have the United States Army Field Band Brass Quintet in concert prior to the naturalization ceremony, at 1 pm. The Army Field Band is playing in a number of national parks this year to help celebrate the centennial of the National Park Service. It is also fitting that they share their music with these individuals as they become new citizens.
"The Homestead Act encouraged both immigration to the United States and migration within the country. The Naturalization ceremonies we hold today reflect the basic homesteading principle of welcoming new citizens to help build our country," stated Superintendent Mark Engler.
This is the first of two naturalization ceremonies to take place at Homestead National Monument of America. Last year over 100 people from more than 60 countries became new citizens at Homestead. 
Remember, Homestead National Monument of America has an exciting schedule of events planned for 2016. Keep up with the latest information by following us on Twitter (HomesteadNM) and Facebook (Homestead National Monument of America).
Homestead National Monument of America is a unit of the National Park Service located four miles west of Beatrice, Nebraska. Hours of operation are 8:30 a.m. to 6 p.m.daily through Labor Day. Admission is free of charge. For additional information, please call 402-223-3514 or visit https://www.nps.gov/home/index.htm.