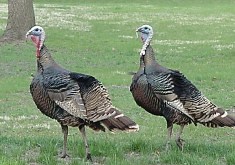 With its variety of habitats, the Monument is home to both grassland and woodland birds. This provides ample opportunities for bird watching, or to simply enjoy the many songs that can be heard while walking through the prairie.
Click here to help monitor our bird populations at Homestead!
2010 Homestead Volunteer Bird Report
Results from 2008-2009 Grassland bird study conducted by University of Nebraska-Lincoln at Homestead NM.
In May and June of 2008 and 2009, staff from the Heartland Network and Prairie Cluster Prototype conducted a "point count" to record the kinds and numbers of birds on the prairie and in the woodlands at Homestead NM of America. Prairie bird species are on the decline and the "point count" helps Homestead management determine sound management practices. The count is taken at specific spots on the prairie and in the woodlands by standing in one spot for five minutes, listening and watching, and then recording the observations. Heartland Network staff will conduct the "point count" again in 2013 and 2014. In 2010, 2011, and 2012 volunteers will conduct "point count" using the exact same "points" and procedures.
Come prepared for bird watching by downloading our bird list.