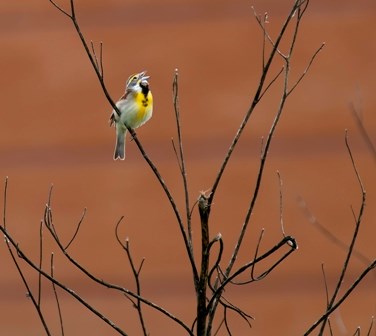 Nebraska Birders,
The happy sounds of Spring have arrived!!! Meadowlarks, robins, blackbirds, cardinals and of course the geese have proclaimed springs arrival, this has cued me to get ready for the busier season at Homestead National Monument of America.
Homestead National Monument of America is looking for birders to help us with a monitoring project. Homestead NM of America is a National Park Service site located four miles west of Beatrice on Nebraska State Hwy 4. The monument is just over 200 acres in size, 100 acres is restored tallgrass prairie and 60 acres riparian woodland located along Cub Creek.
The breeding bird monitoring will consist of visiting 48 points within the park and counting all the birds heard and seen for five minutes at each point. I will be assisting with the monitoring so the main thing I need in a volunteer is someone who can assist (or take over) with the bird identification. It is estimated that it will take approximately 4-5 mornings to complete the yearly monitoring. The sampling will begin no sooner than the first full week of May and extend no later than the second full week of June. During sampling conducted in 2009 within the tallgrass prairie, 48 species were observed, Dickcissels were observed the most (748), followed by the Red-winged Blackbird (482), and the Common Yellowthroat (286).
To review the monitoring protocol visit: https://science.nature.nps.gov/im/units/htln/library/Wildlife/BreedingBirds/Breedgbrd_200805_p.pdf
I would also like to invite everyone to join us for the "Birds and Bagel" event held on Saturday, June 9 at 8 a.m.
If you are interested in helping or have questions please contact me, Jesse Bolli, at Jesse_Bolli@nps.gov or call me at 402-223-3514.
Jesse Bolli
Resource Management Specialist