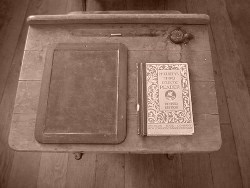 Follow in the footsteps of the kids who lived on the first homesteads. Dress in homesteaders' clothes, visit a one-room schoolhouse and imagine being mixed with students from all grades, and go inside a log cabin where ten children grew up—and no one got their own bedroom!
Or, discover where modern technology meets history by going on a GPS walk. Bring an adult to the Education Center to check out a GPS unit. Then, it's up to you to navigate through the tallgrass prairie without getting lost!
The whole family can enjoy the Monument's special events. Annual programs include the Junior Ranger Rendezvous, the Heartland Storytelling Festival, and the Monumental Fiddling Championship. See the Special Events page for a complete list and dates.