Palmer-Epard Cabin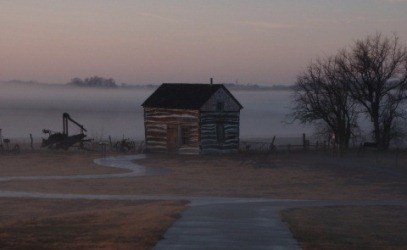 The Palmer-Epard Cabin was built in 1867 from mixed hardwoods, by George W. Palmer about 14 miles northeast of the Monument. It is representative of local construction style and considered luxurious in size measuring 14 x 16 feet. Imagine living in this one room cabin with 10 children. Between 1875 and 1880, a 10 x 12 foot lean-to was added to the rear of the original cabin and the Palmers continued to live in it until 1895 when it was sold to nephews Eugene Mumford and William Foreman. A few years later, the farm was resold to Lawrence and Ida Mumford Epard. The Epards lived in the cabin for nearly 40 years.

The cabin was moved to Homestead National Monument in June of 1950 and placed on a concrete foundation and rehabilitated by park employees. It was moved in 1954 away from Nebraska Highway 4 right of way and then again in 1961 behind the Education Center. During the fall of 2009, the cabin was once again moved from the Education Center to behind the Heritage Center. It was disassembled piece by piece and reassembled to sit surrounded by the restored tallgrass prairie and nearby private land.
Maintenance and preservation of the cabin have been the priority of the National Park Service during this time. The Palmer-Epard cabin fills the need of an interpretive feature at the Monument, giving a glimpse of life on the homestead frontier in the years following the Civil War.
In many areas trees were not available for constructing log cabins so homesteaders lived in dugouts and sod houses. Visit the Library of Congress to learn more about dugouts and sod houses. You can also learn more here and here and for kids there is an interesting "sod house" game at this Smithsonian website.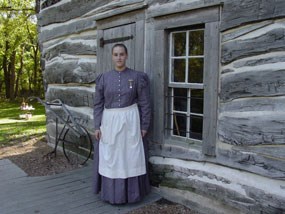 Last updated: April 10, 2015