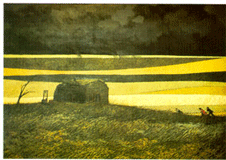 The Congressional legislation that created Homestead National Monument of America required the monument "to retain for posterity a proper memorial emblematical of the hardships and the pioneer life through which the early settlers passed in the settlement, cultivation and civilization of the Great West." The Secretary of the Interior was directed to "erect suitable buildings to be used as a museum in which shall be preserved literature applying to such settlement and agricultural implements used in bringing the western plains to present high state of civilization [and to] use other objects [which] may perpetuate the history of the country mainly developed by the homestead law."

As a result, Homestead National Monument has an extensive museum collection of various documents and household and agricultural items. Some of these are on display in the Heritage Center, many others are stored in the Museum Collections storage room. Read the Scope of Collections Statement (PDF) for more information about how we manage our museum collection.
What's in the museum collection?
The museum collection includes cultural artifacts, natural specimens, and historic records that document homesteads, the agricultural revolution, and Homestead National Monument of America. The museum program preserves these resources for future generations and makes these collections available for research, public enjoyment, and education. Additional materials preserved by the museum include fine art, historic artifacts, photographic material, publications, and memorabilia. The museum also maintains a collection of archaeological materials and biological specimens, collected under permits, and cared for by the museum.

Where can I see the collection?
Items from the collection are on display in the museum, Palmer-Epard cabin, Freeman School, and in temporary exhibits at both the Heritage and Education Centers. A portion of our museum collection can also be viewed online.

How do you research the collection?
Appointments are required for use of the museum collections. To make best use of their time at Homestead, researchers are encouraged to complete their preliminary research at other archives, libraries, and/or museums prior to their visit. Limited space and staff affect our ability to accommodate researchers, so we ask that researchers try to focus on materials only available in the park's collection.

Access to materials is dependent upon their physical condition and level of processing to date by the park staff. If you would like to inquire about researching the collection or set up a research appointment.
Hours & Access
An appointment is required to visit the museum collection. The collection is generally available for appointments:
Monday thru Friday: 9 am - 4 pm
Closed Federal holidays.
To access the collections for research please follow these steps:
1) Researchers should submit a research request in person or by
email
, detailing their research project. (Download the
Research Request Form
)
2) After you confirm an appointment, you will be asked to read and sign the Access Policy when you arrive or before photos or copies are sent to you.
Learn about the size and history of our museum collection, what we do to manage it, and the unique items it holds.
Learn about recent and featured acquisitions, and how you can donate special items to be preserved and shared in our museum collection.
Learn how we plan for our museum collection to continue and grow in the future.
Learn about how you can donate special items to be preserved and shared in our museum collection.