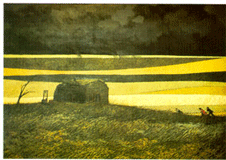 The Congressional legislation that created Homestead National Monument of America required the monument "to retain for posterity a proper memorial emblematical of the hardships and the pioneer life through which the early settlers passed in the settlement, cultivation and civilization of the Great West." The Secretary of the Interior was directed to "erect suitable buildings to be used as a museum in which shall be preserved literature applying to such settlement and agricultural implements used in bringing the western plains to present high state of civilization [and to] use other objects [which] may perpetuate the history of the country mainly developed by the homestead law."

As a result, Homestead National Monument has an extensive museum collection of various documents and household and agricultural items. Some of these are on display in the Heritage Center, many others are stored in the Museum Collections storage room. Read the Scope of Collections Statement (PDF) for more information about how we manage our museum collection.

About the Museum Collection
Learn about the size and history of our museum collection, what we do to manage it, and the unique items it holds.
Adding to the Museum Collection
Learn about recent and featured acquisitions, and how you can donate special items to be preserved and shared in our museum collection.
Future of the Museum Collection
Learn how we plan for our museum collection to continue and grow in the future.