Future of the Collection
Each unit in the National Park Service must follow a Scope of Collection statement. This document provides guidance, rules and regulations for what can be in each park's museum collection. This ensures that the park is acquiring objects directly related to the mission of the park. Homestead National Monument of America updated their Scope of Collection Statement in 2016.

The monument has a collection of over 944,000 items. Items in the monument's collection include farm implements, catalogs and brochures, household items, children's toys, medical equipment, historic photographs, homestead documents, and information about Homestead National Monument of America itself . These objects all tie to our Nation's homesteading story and play an important role in preserving this part of our Nation's history.
What Items is Homestead National Monument of America Looking For?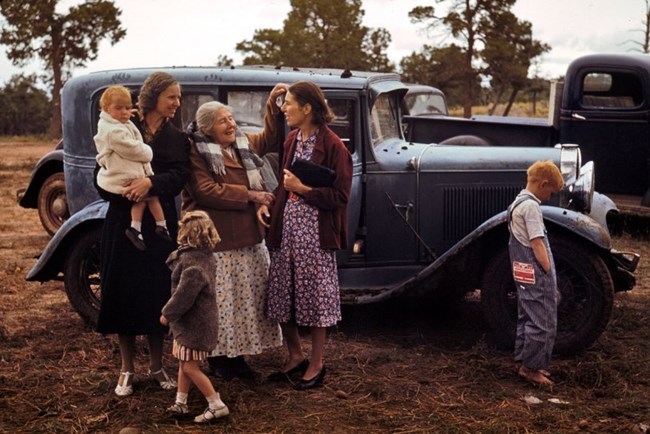 There are a few specific things we are looking to add to the collection. Please contact us if you are interested in donating some of the items listed below.
Records documenting a homesteader's life (photos, letters, diaries, land deeds, etc.).

Items related to first-generation children growing up and living on the homestead (country school items, books, toys).

Homesteaders brand clothing, made by Montgomery Ward in the 1930s-1950's

Farm Equipment Manuals (we have a significiant number of Dempster and Allis-Chalmers manuals, but are lacking most other brands)
Donating to the Collection
Are you trying to figure out what to do with old documents, photographs, or objects related to your family's homesteading heritage? Do you have relevant family heirlooms that you cannot keep, but that you want to remain safe and share with the world? If so, consider contacting Homestead National Monument of America. Homestead National Monument of America primarily acquires museum items through donations. Items of interest include objects from homesteads (including farm equipment and household items), documents about homesteading, and photographs of homesteaders

Museum items at the monument will be preserved for the benefit of future generations so that they might better understand farming practices and the lives of homesteaders.

If you have materials that you think would be relevant to the mission of Homestead National Monument of America, please contact:
Amy Neumann
Homestead National Monument of America
8523 West State Hwy 4
Beatrice, NE 68310
402-223-3514
Email
Last updated: December 17, 2019