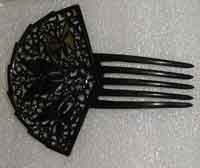 Homestead National Monument of America currently has over 9,000 archeological artifacts, over 6,700 historical objects, over 1,000 scientific specimens and over 928,000 archival documents or 580 linear feet. The total collection size for Homestead National Monument of America is over 944,000 items!

The historical objects at Homestead range from plows used in the 1800s to modern hunting and trapping equipment from Alaska homesteads. Although there is only a little over 100 years difference between the first homesteader, Daniel Freeman and the last homesteader, Kenneth Deardorff, the equipment and needs of the homesteader did not change dramatically.

Collection Management:
The proper management and storage of these items is an essential part of our Cultural Resource Management Program. As you visit our park you will see how we manage those items in our "View into the Collection" window. This window looks directly into the collection storage area where all the non-exhibited items are stored.

Museum collections management is a process using a systematic approach in order to properly preserve and make wise use of the museum collection. It involves long- and short-term planning as well day-to-day management of the objects. Acquisition, documentation, preservation and conservation, protection and planning are all major facets of museum collection management in the National Park Service.

The environmental conditions are controlled to maintain a constant environment of temperature and humidity. Security is important to the management of the collection and all manners of security measures are taken to ensure that the objects are safe.