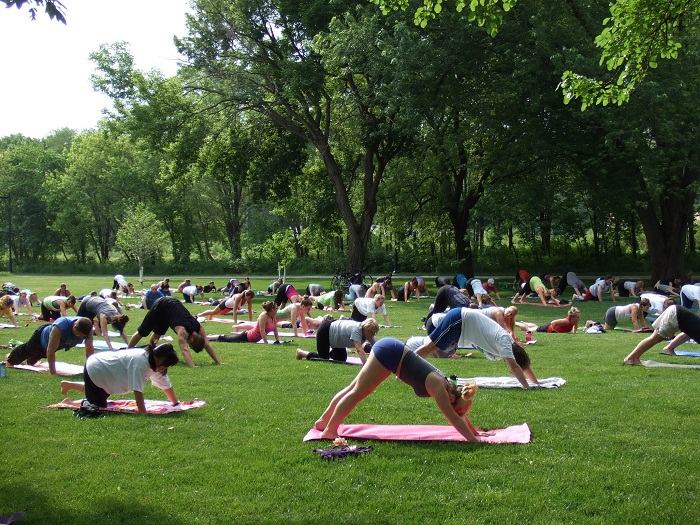 News Release Date:
July 12, 2014
Contact: Riley Litter, 740-774-1126
Contact: Melinda Repko, 740-774-1126
Yoga in the Park 
Dates: Every Saturday beginning July 19th through September 20th
Time: 9:00 am - 10:00 am
Location: Mound City Group Visitor Center
Fees: No Fees
On every Saturday starting July 19, 2014 through September 20, 2014 Hopewell Culture National Historical Park invites you and your family or friends to participate in FREE Yoga in the park. Yoga in the park is a new event this year as part of the Healthy Parks Healthy People initiative. Join a local yoga instructor for a fun-filled, relaxing morning of yoga. The event will be FREE for all the visitors wishing to participate. The class will last about an hour and participants will need to bring their own water and yoga mat or blanket.
Things to remember: 
Starts at 9:00 AM
Bring your own water
Bring your own mat or blanket
Classes will last about an hour
Call ahead to reserve your spot
Class is FREE to visitors   
PLEASE NOTE: 
To reserve you spot, please call Hopewell Culture National Historical Park at (740) 774-1126.  For more information, you can email Riley Litter at riley_litter@nps.gov. Bring a picnic lunch and enjoy a day of discovery in your neighborhood national park!

Visit the Directions Page for directions and maps to the Mound City Group visitor center. Hopewell Culture National Historical Park is open year-round, except for Thanksgiving Day, Christmas Day & New Year's Day. The visitor center at Mound City Group is open from 8:30 am to 5:00 pm daily.