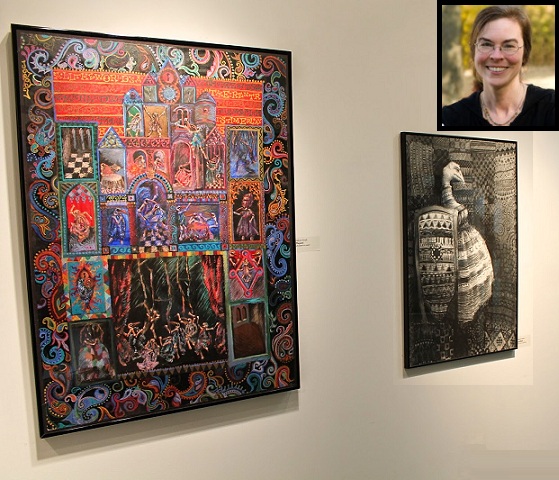 News Release Date:
September 1, 2014
Contact: Rick Perkins, 740-774-1126
Contact: Bruce Lombardo, 740-774-1126
Dates:

 Saturday & Sunday, September 20th & 21st
Time: Exhibition viewing is all weekend; Ranger program @ 2:00 pm both days
Location: Mound City Group Visitor Center
Fees: No Fees for admission, exhibition or Ranger program
A commemorative exhibition of a local artist's work will be on display at Hopewell Culture National Historical Park on the weekend of September 20-21. Regionally renowned artist Kathryn Gough was inspired by the art of the Hopewell Culture and incorporated it into her textured paintings. A sampling of her Hopewell-inspired works, including the ornament she designed for the White House Christmas tree in 2007, will be on display in the auditorium of the Mound City visitor center on the weekend of the autumnal equinox.
Ancient Native Americans of the Hopewell Culture are famous for the quality of their craftsmanship and the exotic materials that they used to make their art. Two thousand years ago, Hopewell artists used wildlife and nature as inspiration for the art that they often buried with their honored dead. Some of this impressive art is on display every day in the Mound City Group visitor center.
A national park ranger will give a short PowerPoint presentation about the Hopewell art that inspired Kathryn Gough's work at 2:00 pm both days, Saturday and Sunday. Interesting perspectives about the wildlife behind the art and the importance of astronomical alignments to Hopewell artwork and earth architecture will be presented.
Visit the 
Directions Page
 for directions and maps to the Mound City Group visitor center. Hopewell Culture National Historical Park is open year-round, except for Thanksgiving Day, Christmas Day & New Year's Day. The visitor center at Mound City Group is open from 8:30 am to 5:00 pm daily.