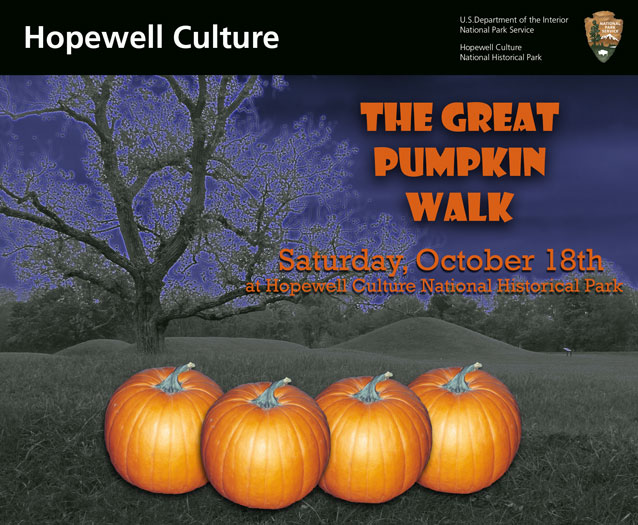 News Release Date:
September 19, 2014
Contact: Melinda Repko, 740-774-1126
The Great Pumpkin Walk 
Date: Saturday, October 18th
Time: 10am to 2pm for pumpkin carving
 7pm to 9pm for the pumpkin walk
Location: Mound City Group Visitor Center
Fees: No Fees
Hopewell Culture National Historical Park will be hosting The Great Pumpkin Walk on Saturday, October 18 at the Mound City Group Visitor Center.  The public is invited to carve pumpkins inspired by Hopewell designs at the Mound City Group Visitor Center, from 10am-2pm.  Pumpkins are free and will be available on a first-come, first-serve basis.  All carved pumpkins will be illuminated and displayed throughout the grounds of Mound City Group in the evening, from 7-9 pm.  Carved pumpkins may be taken home after the walk or left behind at Mound City.
Pumpkin carvers of all ages and skill levels are encouraged to participate, individually or as a group.  Some pumpkin carving tools will be supplied, but you are encouraged to bring your own. Hot cocoa, cider and baked goods will be provided by the 
Scioto Valley Bird and Nature Club
. 
Way Farms
has grown the pumpkins.  Now all we need is YOU to help carve them!
Join us for this unique opportunity to experience Mound City Group at night illuminated by Hopewell inspired carvings. Please call Hopewell Culture NHP at (740) 774-1126 for more information, or if you have a group larger than 6.  For directions to the Mound City Group visitor center, please visit the 
directions
 page.