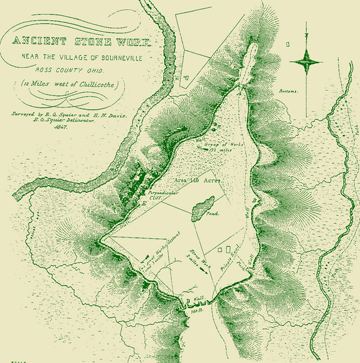 News Release Date:
September 10, 2013
Contact: Bruce Lombardo, 740-774-1126
Contact: Tom Engberg, 740-774-1126
Contact: Melinda Repko, 740-774-1126
Spruce Hill Summer Hike - Sunday, September 22nd, 2013
Mystery surrounds the story of the people of the Hopewell Culture and the monumental earthworks they created.  What better way to delve into the mystery than at one of the last remaining hilltop enclosures constructed by these prehistoric Native Americans over 2,000 years ago?
A small sliver of Ohio's geologic library, beautiful flora & fauna, rich mysterious Hopewellian history.  These and more away you on the annual summer hike at Spruce Hill.  Join Park Rangers as they guide you up the sediment-washed trail which has been exposed to reveal layers of rock dating back to nearly 400 million years ago.  Visitors will get a chance to see rare and exotic flora and even catch a glimpse of the myriad fauna that call the hill home. Once on top on on the plateau, you'll experience the enormity of the sky in a way similar to those whose footsteps you'll be tracing.  Park Rangers will address questions and provide insight into this 140 acre complex that was one of the many gathering places used by the Hopewell.  The hike will continue on to one of the most famous and best preserved areas of the plateau, the Isthmus.  While Spruce Hill is open on a limited basis with limited visitor resources (no staff, no printed information or interpretive displays available on-site), this is your chance to explore the site in-depth with Rangers.
Things to know
Difficulty: This is the most strenuous and arduous of all the summer hiking events, so please come prepared.  The approximate length of the hike will be 3-4 miles.
Sturdy Hiking boots/shoes are highly recommended
The ascent up Spruce Hill is traversed via an old logging road that is rather steep in spots
Once on top, you can expect flat, grassy terrain at the entrance of the plateau.
In the open areas of the plateau the ground abruptly changes to an uneven, hilly terrain which follows the contours of historic-era row crops once farmed on the hilltop.
As this is a voluntary hike, visitors are free to discontinue the hike and turn back at any time.
What to bring:
You should bring plenty of drinking water for a strenuous hike that will last approximately 3 to 4 hours.
Bug spray is recommended to ward off any bothersome insects.
Plan to pack a light lunch or hearty trail snacks as the hike will likely last through the lunch hours.
A camera to take plenty of pictures.
For more information, call the visitor center at 740-774-1126.  For driving directions,
click here
.
Spruce Hill is owned by the
Arc of Appalachia Preserve System
and is co-managed with Hopewell Culture National Historical Park and the
Ross County Parks District
.