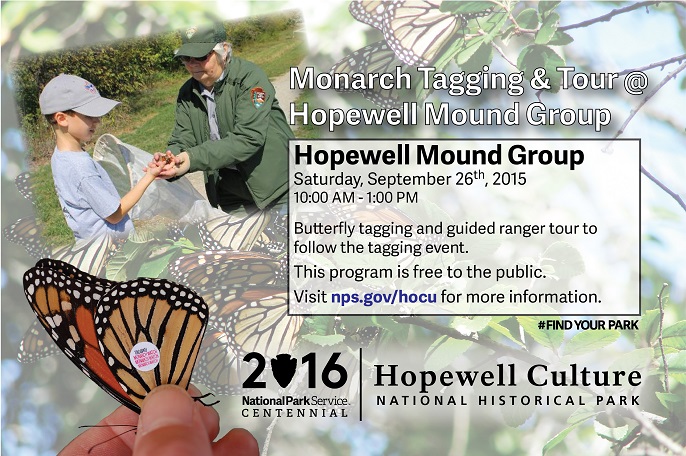 News Release Date:
September 11, 2015
Contact: Bruce Lombardo, 740-774-1126
Monarch Tagging and Ranger Guided Tour @ Hopewell Mound Group  
Date: Saturday, September 26th, 2015
Time: 10:00 am - 1:00 pm
Location: Hopewell Mound Group
Fees: No Fees
Celebrate National Public Lands Day by participating in our annual Monarch Butterfly Tagging event! Hopewell Culture National Historical Park invites the public, young and old, to join naturalists and park volunteers to participate in this program, and join a ranger for a guided tour following the tagging.
10:00am –11:00am: Participants will help capture and release monarch butterflies and assist in the tagging and collecting of monitoring information. The information collected will be used to help determine migration flight patterns and timing, survival rates, weather influences on migration, and the overall population size of monarch butterflies. The program is being presented in conjunction with the University of Kansas Monarch Watch. The day's activities will conclude with the exciting release of the butterflies. Participants are required to wear long pants and closed-toed shoes and encouraged to bring plenty of water. Supplies for the program are provided by Hopewell Culture National Historical Park. Organized groups can call to schedule a separate program on select dates. Call the park at 740-774-1126 to learn more and schedule.
12:00 –1:00pm: Join a ranger-guided tour of Hopewell Mound Group. Come walk the grounds of this ancient sacred area and learn what archeologists first uncovered here and discover what we have learned about the Hopewell culture through excavations over the last century.
Program begins at 10:00 am. Meet at Hopewell Mound Group parking lot, 3 miles northwest of Chillicothe on Sulphur Lick Rd., ¼ mile from Maple Grove Rd. near the west end of Anderson Station Rd. You can find a printable map and driving directions by visiting the Directions page of the website.