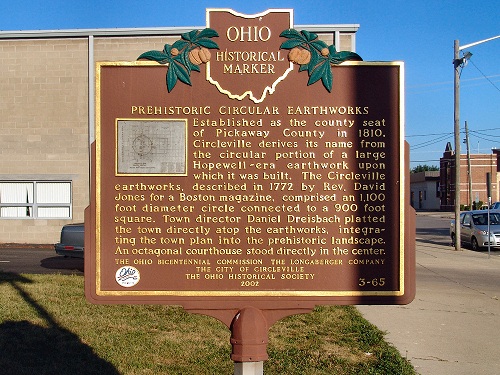 News Release Date:
June 3, 2013
Contact: Rick Perkins, 740-774-1126
The Circleville Earthwork and Hopewell
The Circleville earthwork was one of the great Hopewell works of Ohio, but it was unfortunately lost to history by destruction in the early 19th century by the rapidly growing village of Circleville, and also by Squier's and Davis's cursory treatment of it in their 1847 book, "Ancient Monuments of the Mississippi Valley". Because of these factors, it has been largely ignored in discussions of the Hopewell phenomenon. This great work and its surroundings have much to teach us about the Hopewell: the work shared many features with other Ohio earthworks but it had some unique attributes too, it was geographically isolated from the concentration of works around Chillicothe and so can serve as a model for settlement and population patterns associated with a major work, and it serves as a sad reminder of how much can be lost to unwitting progress. This presentation will cover the work itself, compare it with other Ohio earthworks, present currently known Hopewell settlement patterns around Circleville, and encourage preservation of knowledge by all devotees of archeology.
Hopewell Culture National Historical Park is pleased to host the summer archeological lecture series. The programs are held at the Mound City Group Visitor Center located at 16062 St. Rt. 104 just north of Chillicothe. Doors open to the visitor center at 7:00 p.m., lecture will start at 7:30 P.M.
Click here for directions to the Mound City Group Visitor Center.