Date:
June 3, 2013
Contact:
Rick Perkins, 740-774-1126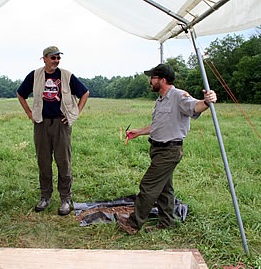 Ohio Hopewell Ceremonial Landscapes: What We Know and What We Want to Know
Important field research over the last decade has produced new information about how some of the great Ohio Hopewell earthworks were built. We have learned that construction involved substantial amounts of earth-moving and careful selection and placement of soil. The larger earthworks required considerable labor and were truly monumental in scope. Radiocarbon dates from the Hopeton Earthworks, Fort Ancient and Pollock indicate that construction likely occurred over several generations. Many hypotheses have been proposed regarding the relationship between Ohio Hopewell sites, the chronology of their construction, and the meaning or purpose of these impressive earthen monuments. This presentation will review what we think we know about the ceremonial landscapes that were built by Ohio Hopewell people, and discuss the questions we must answer to better understand these unique and mysterious sites.
Hopewell Culture National Historical Park is pleased to host the summer archeological lecture series. The programs are held at the Mound City Group Visitor Center located at 16062 St. Rt. 104 just north of Chillicothe. Doors open to the visitor center at 7:00 p.m., lecture will start at 7:30 P.M.
Click here for directions to the Mound City Group Visitor Center.