Invasive Plant Management Plan
Date:
February 6, 2013
Contact:
Dafna Reiner
, 740-774-1126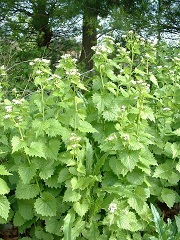 Hopewell Culture National Historical Park, in collaboration with the National Park Service's Heartland Inventory and Monitoring Network, is seeking public input and comments on an invasive plant management plan. This document will guide the park in eradication, control, or containment of exotic invasive plants, particularly in natural and cultural areas of the park. Several options for attaining the objectives are considered and analyzed for their impacts on the environment. The analysis is part of an Environmental Assessment. Invasive exotic plant species are defined as non-native (or alien) to the ecosystem under consideration and whose introduction causes or is likely to cause economic or environmental harm or harm to human health.Some examples of such plants species being controlled by the park are bush honeysuckle, Canada thistle and garlic mustard.
The plan is available online at http://parkplanning.nps.gov/projectHome.cfm?projectID=31771 (click link to be taken to project home page).The plan is open for comment until March 14, 2013. Please submit your comments on line, by email, or by mail to Dafna Reiner, Hopewell Culture NHP 16062 State Route 104, Chillicothe, OH 45601.