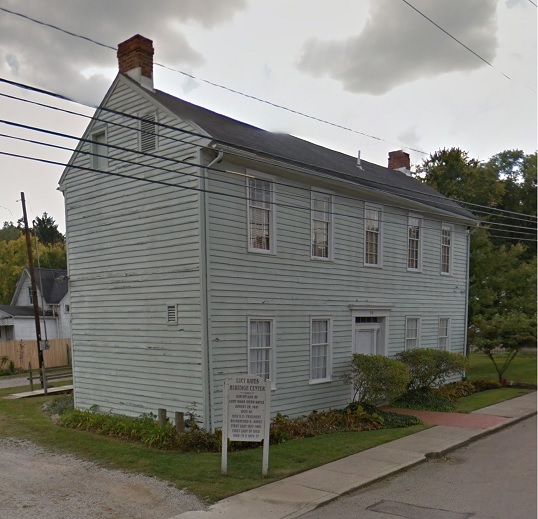 News Release Date:
December 3, 2014
Contact: Bruce Lombardo, 740-774-1126
Hopewell Earthworks Presentation 
Date: Saturday, December 13th
Time: 11:30am to 1:30pm
Location: Lucy Hayes Heritage Center, 90 W. 6th St, Chillicothe, Oh.
Fees: No Fees
The National Park Service and the Friends of the Lucy Hayes Heritage Center invite you to a free presentation about Ross County's ancient earthworks and their recent nomination for listing as UNESCO World Heritage sites. The program will be offered by a national park ranger on Saturday, December 13 at 11:30 a.m. at the Lucy Hayes Heritage Center in Chillicothe's historic district.
Long before it was the first capital of Ohio, the Chillicothe area was even more important as the spiritual center of eastern North America for a mysterious ancient culture. Two thousand years ago, Americans Indians of the Hopewell culture built an astounding number of giant geometric earthworks here along the Scioto River and its tributaries. The size and complexity of these ceremonial sites baffle scientists to this day.
Now that these earthworks have been nominated for listing as UNESCO World Heritage sites, their potential as valuable heritage tourism assets for the region has renewed interest in earthwork conservation in Ohio. Also presenting will be Nancy Stranahan, the director of the Arc of Appalachia Preserve System, which played a major role in the recent preservation of Junction Group, soon to open as a new public park. She will talk about how these earthworks were saved and what lies in store for the new Junction Earthworks Park.
The event is free of charge and is co-sponsored by the Friends of Lucy Hayes Heritage Center, which will be offering free house tours, snacks and seasonal music after the presentations until 1:30 pm.
The Lucy Hayes Heritage Center is located at 90 West 6th Street, Chillicothe, Ohio. Please visit google maps for directions to the Lucy Hayes Heritage Center.  Call the park at 740-774-1126 or for more information.