Date:
October 12, 2013
Contact:
Melinda Repko
, 740-774-1126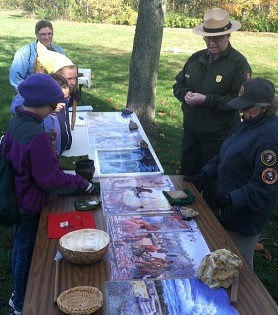 Hopewell Discovery Day 2013 - Saturday, October 12th, 2013
Due to the federal government shutdown, the 2013 Hopewell Discovery Day was cancelled.  The scheduled date of October the 12th was during the shutdown period and unfortunately forced the park to cancel this year's event.  Planning is taking place for the 2014 Discovery Day.  We hope to see you there for next year's event.  Thank you for your unconditional support of YOUR National Park!
Hopewell Discovery Day is a free day of activities dedicated to learning about the science of archeology and understanding the Hopewell Culture.
Enjoy this Amazing Day of Discovery and Uncover
the Mysteries of the Hopewell Culture as you…
Join park rangers on earthwork tours.
Visit the park's state of the art collections facility
Bring artifacts and fossils to be professionally identified.
Meet members of the professional science community.
Enjoy a hands-on display from the Ohio Historical Society's History To Go van as they present
"The American Indian Experience"
Get up to speed on the latest archeological research.
Learn about prehistoric tools, textiles and pottery.
View flint knapping and participate in atlatl demonstrations.
Learn to identify native plants and animals.
Engage your kids in crafts, skill games, storytelling
and the park's Junior Ranger program!
Bring a picnic lunch and enjoy a day of discovery in your neighborhood national park!
For driving directions to Mound City Group, click here. Hopewell Culture National Historical Park is open year-round, except for Thanksgiving Day, Christmas Day & New Year's Day. The visitor center at Mound City Group is open from 8:30 am to 5:00 pm daily.