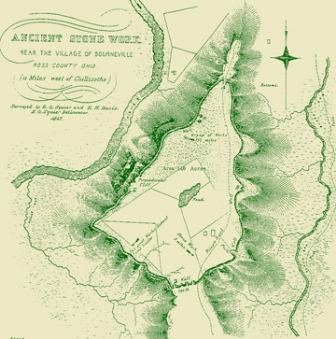 News Release Date:
September 1, 2014
Contact: Bruce Lombardo, 740-774-1126
Contact: Melinda Repko, 740-774-1126
Date:

Saturday, September 27, 2014
Time: 9:30 am –1:30 pm
Length: 3.5 miles
Difficulty Level: Moderately challenging with significant ascents and descents. Hikers should wear sturdy walking shoes and bring a full water bottle and a packed lunch or hearty trail snacks.
Mysterious Spruce Hill is the world's largest Hopewell hilltop enclosure and one of only three such rare hilltops surrounded by a mounded wall of stone.Why did prehistoric hunter-gatherers build a low mounded wall of stone around such an enormous plateau, but never live here? How did they create fires here with temperatures hotter than an open fire can generate? Is there really a serpent mound in the middle of the enclosure? These are some of the questions that will be addressed in the guided hike, which begins at the foot of Spruce Hill and ascends a gravel road through beautiful forested slopes to the remains of an entrance at the edge of the mesa. From there, the route proceeds through flat but uneven former farm fields to the isthmus at the far end of the plateau, where the best preserved section of the wall and gateways remains.
Few guided hikes visit the isthmus because it is such a long hike from the parking lot. Additionally, Spruce Hill is not normally open to the public without a permit, so this is an uncommon opportunity to explore this flat-topped finger of stone that thrusts into the scenic Paint Valley.
Spruce Hill Preserve is owned by the Arc of Appalachia Preserve System, and co-managed with the National Park Service and the Ross County Parks District. Meet at the Spruce Hill Preserve parking lot located on Spruce Hill Rd. off Black Run road, off Blain Highway, off U.S. Route 50, three miles east of Bourneville. Call 740-774-1126 for directions or pick-up a 
driving map
 at the Mound City Group visitor center (16062 State Route 104). Spruce Hill is a 20 minute drive from the Mound City Group visitor center.