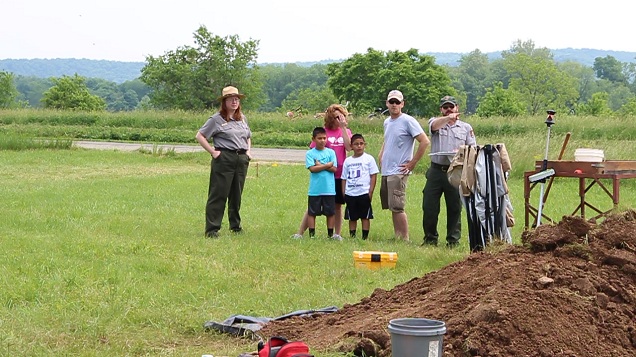 News Release Date:
May 31, 2014
Contact: Rick Perkins, 740-774-1126
Guided Hike at Hopewell Mound Group
Date: June 7, 2014
Time: 10:00 am – 12:00 pm
Hike Length: 2¼ miles
Difficulty Level: Easy, Mostly Flat
Hopewell Culture National Historical Park is offering a guided hike of Hopewell Mound Group on Saturday, June 7, that will include a visit to an archaeological excavation in progress. Hopewell Mound Group is one of the area's most famous ancient earthworks. At 111 acres, the main enclosure here is the largest single Hopewell earthen-walled area ever found and contained the largest Hopewell burial mound ever built. National Park Service archaeologists recently discovered what may be the remnants of a giant woodhenge inside the great enclosure. Currently, archaeologists are excavating a small portion of a circle of pits that may have held large posts. They are hoping to learn more about the 400 foot diameter circle's possible use and construction two thousand years ago.
The hike begins at 10:00 am, will last two hours and be 2 ¼ mile long. Meet at Hopewell Mound Group parking lot, 3 miles northwest of Chillicothe on Sulphur Lick Road, ¼ mile from Maple Grove Road near the west end of Anderson Station Road. Visit the 
Directions page
 for driving directions and a driving map to Hopewell Mound Group.  You can also visit the Mound City Group Visitor Center to obtain maps and directions. The visitor center is open every day, 8:30 am – 5pm.  Hopewell Mound Group is a 15 minute drive from the visitor center. Hopewell Mound Group is one of the five ancient earthworks preserved by Hopewell Culture National Historical Park. 
Visit our
Facebook page
for the weekly video blog on the progress of the excavation at Hopewell Mound Group.  You can also stay updated on happenings during excavation by following us on
Twitter
and
Instagram
 as we live tweet and post.  You can see all of the postings and tweets from the archeological team by using the hastag
#hocuarcheology
on all of our social media pages.