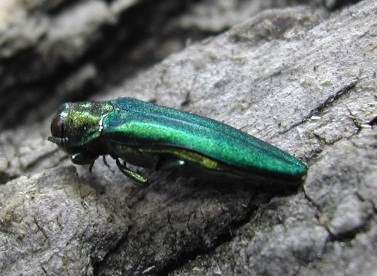 News Release Date:
February 14, 2013
Contact: Dafna Reiner, 740-774-1126
In the summer of 2012 the Emerald Ash Borer (EAB) was officially documented in Ross County. This exotic beetle has already decimated ash trees in many parts of Ohio causing millions of dollars in damage. However, all is not lost in the battle to lessen the damage and save valuable trees. New research and technology make it possible for home and property owners to take simple Do-It-Yourself actions to protect their valuable trees against this devastating insect. A plant pest expert from the Ohio Department of Agriculture, along with the park biologist, will give a presentation on the biology of EAB, its effects, and control techniques. Included in the discussion will be Hemlock Wooly Adelgid and the Asian Longhorn Beetle, both of whom have been recently discovered in Ohio. A question and answer session will follow the presentation.
The date of the event is March 4th. It will be held at the Mound City Group visitor center beginning at 7:00 pm. Admission is free. For more information, please call the park at 740-774-1126.
The Mound City Group visitor center is located at 16062 State Route 104 in Chillicothe. For directions, please click here.