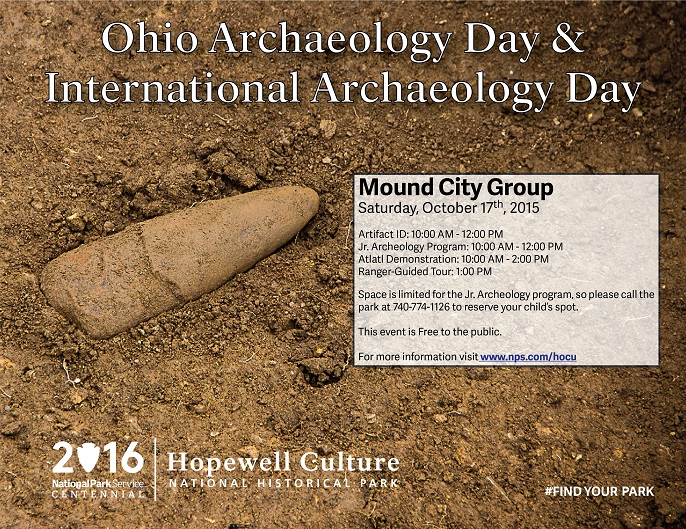 News Release Date:
October 3, 2015
Contact: Melinda Repko, 740-774-1126
Ohio Archaeology Day & International Archaeology Day
Join us as we celebrate Ohio Archaeology Month and International Archaeology Day!  Saturday, October 17th at the Mound City Group visitor center.
10:00am - 12:00pm: Artifact Identification.Experts will be on-hand to identify artifacts.This is a great opportunity to bring out those rocks, relics and artifacts that you have been curious about!
10:00am - 12:00pm: Junior Archeology program for kids ages 5-12. Space is limited. Reservations are required. Call the park to reserve your child's spot for Junior Archeology at 740-774-1126.
10:00am - 2:00pm: Atlatl demonstrations 1:00pm: Ranger-led tour. Join a park ranger and discover the archeology and history of Mound City Group, the only fully restored Hopewell earthwork complex.
Admission is always free!
 Visit the Directions page for detailed directions to the park's visitor center and for driving maps as well.  Contact Us if you have questions or would like to sign up your child for the Jr. Archeology program.