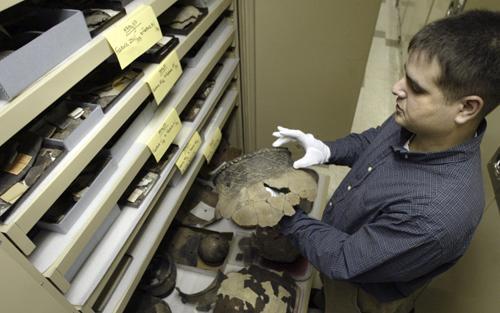 News Release Date:
July 11, 2014
Contact: Rick Perkins, 740-774-1126
Contact: Susan Knisley, 740-774-1126
Prehistoric Architecture of the Ohio River Valley
Date: Thursday, July 17, 2014
Time: 7:30 P.M.
Place: Mound City Group Visitor Center auditorium, doors open at 7:00 P.M.
Fees:  No Admission Fees 

Prehistoric architecture has been a neglected topic of scholarly interest in the Ohio River valley, however this has not been due to a lack of data. Although post-molds and other architectural remains are commonly found on sites of most prehistoric periods, archaeologists have struggled to understand how to interpret the three-dimensional structures that they represent. Although we do not yet have many of the answers we seek, we now understand these remains well enough to describe them in meaningful ways and ask answerable questions of the archaeological record. This lecture will include an introduction to the study of prehistoric architecture and examples of full-scale rebuilt structures from the Late Prehistoric period.  
For directions to the Mound City Group visitor center, please visit the 
Directions page
 where you will find maps and detailed directions from major points in Ohio.
William Kennedy is theCurator of Anthropology for the Dayton Society of Natural History in Dayton, Ohio which operates four museums, two of which are archaeological sites: SunWatch Indian Village/Archaeological Park and Fort Ancient Archaeological Park.  Mr. Kennedy also teaches undergraduate courses as an adjunct at Wright State University.