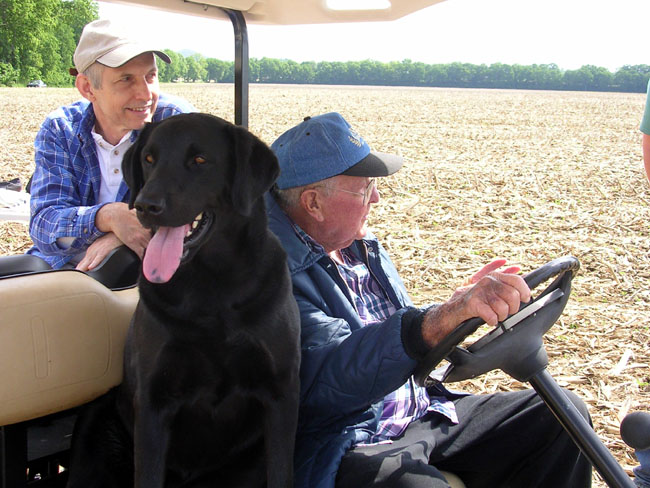 News Release Date:
June 27, 2014
Contact: Rick Perkins, 740-774-1126
Contact: Susan Knisley, 740-774-1126
Date: Thursday, July 10, 2014
Time: 7:30 P.M.
Place: Mound City Group Visitor Center auditorium, doors open at 7:00 P.M.
Fees:  No Admission Fees 
The Harness family farm has drawn the attention of antiquarians from the earliest days of archaeological study in Ross County. Foremost among its many prehistoric earthen monuments are the Liberty Earthworks and the Edwin Harness Mound. These and other sites on the farm have been the scene of archaeological activities for more than 150 years now. For much of the last half of the 20th century, the caretaker of the farm and its prehistoric heritage was Robert Lee Harness. Born on the farm in 1918, Bob spent much of his life there. Over the years he came to realize its importance for scientific study and soon became well-known to the archaeological community. In the early 1960s, Bob began to systematically collect the prehistoric artifacts which were being exposed by the farming techniques of the day and over the next forty years amassed some 20,000 items which were carefully labelled and displayed in his basement museum. Analysis of the collection reveals that the farm has been visited by prehistoric peoples since the Paleo Period and includes examples of almost every known type. After a brief discussion of the farm's archaeological history, this evening's talk will focus on the organization of the collection and its importance for future scientific study.  
This lecture series derives its name from Mr. Robert Harness, Jr. who supported and befriended many in the archeological community when he hosted them on his family's farm land, site of Liberty Earthworks.
For directions to the Mound City Group visitor center, please visit the 
Directions page
 where you will find maps and detailed directions from major points in Ohio.