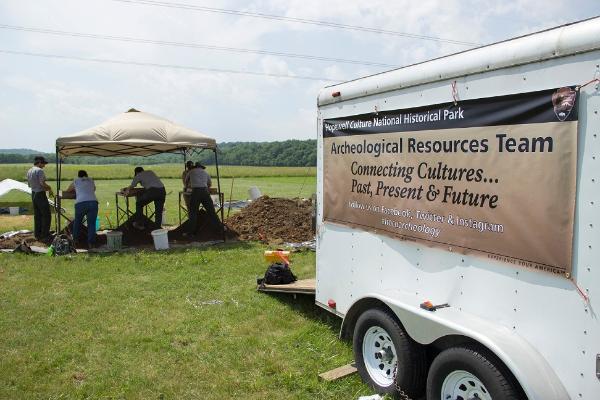 News Release Date:
June 20, 2014
Contact: Rick Perkins, 740-774-1126
Contact: Susan Knisley, 740-774-1126
Current Research in the Park: The Great Circle Project at Hopewell Mound Group
Date: Thursday, June 26, 2014
Time:
7:00 P.M.
Place: Mound City Group Visitor Center auditorium, doors open at 7:00 P.M.
Fees: No Admission Fees
For the next lecture, the park present's one its own, Park Archeologist Dr. Bret J. Ruby.  Join us as Dr. Ruby speaks about the work being performed currently at Hopewell Mound Group.  Hopewell Mound Group was one of the most important centers of an American Indian religious movement that swept over half the continent nearly 2000 years ago. The earliest map of the site, drawn by Caleb Atwater nearly 200 years ago, showed a circular earthwork nearly 400 feet in diameter within a much larger earthen enclosure. When Warren King Moorehead arrived to conduct the first major excavations nearly 70 years later, this "Great Circle" had been entirely obliterated by plowing.
Recently, Jarrod Burks conducted a magnetic survey of the site. The magnetic survey suggests that remnants of the Great Circle may be preserved just beneath the surface, perhaps including a row of wooden posts forming a gigantic "woodhenge." This talk will present the results of ongoing excavations intended to shed light on the geophysical survey and the nature of this remarkable construction. The discussion will place the Great Circle at the Hopewell Mound Group in context with Native American ritual structures ranging from Poverty Point, Louisiana (nearly 3500 years ago) through Cahokia, Illinois (nearly 1000 years ago), up to the present day.
For directions to the Mound City Group visitor center, please visit the 
Directions page
 where you will find maps and detailed directions from major points in Ohio.