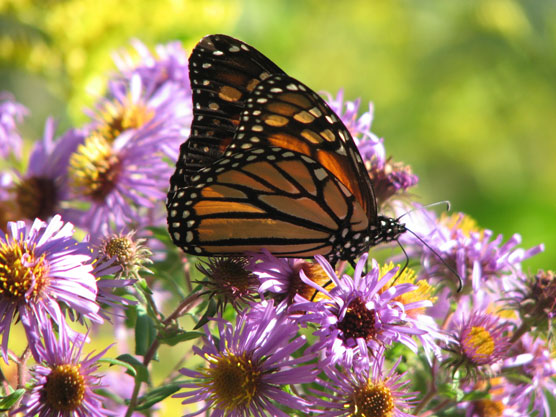 News Release Date:
September 30, 2009
Contact: Adam Prato, (319) 643-7855
WEST BRANCH, IOWA— Visitors to Herbert Hoover National Historic Site may have noticed some changes to the trails in the restored tallgrass prairie. This summer the park took steps that will help reduce its carbon footprint and add over 2 acres of native plants to the prairie.
Two and a half miles of prairie trails are being reduced to seven feet wide from 10 to 14 feet wide, with the remaining three to seven feet of the original trail width replanted with native prairie seeds. The reduced width alone will cut mowing in the prairie in half by allowing park staff to maintain the trails with only one pass of the mower. The Kentucky blue-grass that once served as the trail vegetation has been replaced with a slow-growing "low-mow" fescue grass mix. The trails will require less frequent mowing and, as a result, less fossil fuel use by the park.
The new trail vegetation is now in a critical stage of its growth. The fescue seeds have just started to sprout and are putting down roots in order to survive the winter. We are asking visitors who walk the trails to be mindful of the new plants that are sprouting from the planter rows. The side of the trail that has not yet "greened-up" was planted with prairie seed and will be much more tolerant of pedestrian traffic this time of year. Visitors can help ensure the success of this project for the remainder of the fall and winter months by walking on the less green side of the trail and by avoiding the fescue seedlings.
Herbert Hoover National Historic Site and the Herbert Hoover Presidential Library and Museum are in West Branch, Iowa at exit 254 off I-80. Both are open daily from 9 a.m. to 5 p.m. Central Time. Parking is limited so please allow extra time to find a parking space.