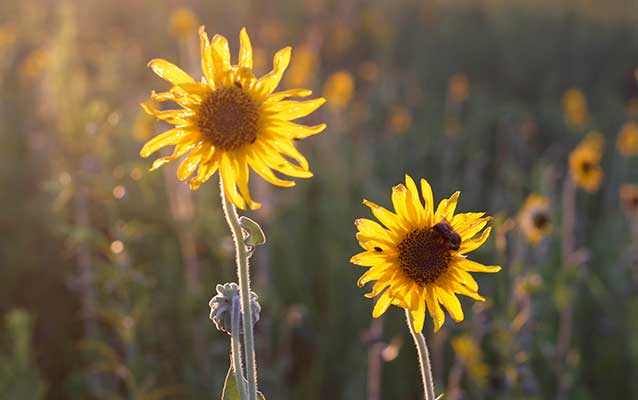 Location:
West Branch, Iowa
Significance:
Part of Herbert Hoover National Historic Site
"I was taken for a summer to live with Uncle Pennington Minthorn in Sioux County, Iowa, where he was breaking in a prairie farm. We lived in a sod house and I was privileged to ride the lead horse of a team which was opening the virgin soil."

Herbert Hoover
The tallgrass prairie at Herbert Hoover National Historic Site offers a glimpse of an Iowa landscape that had almost vanished by the time Hoover's grandparents moved to West Branch in 1854. The National Park Service reconstructed the tallgrass prairie in 1971 to represent the vast grassland that once covered 85 percent of Iowa. The park planted native species of grasses on land that had been farm fields for more than a century.
Trails
This prairie offers over two miles of trails through the reconstructed prairie for hiking, cross-country skiing, snowshoeing, and nature study. Visitors to the prairie can imagine the pioneers crossing over land where mothers feared they could lose their small children in the 6 to 12 foot tall maze of grasses. A trail map, available from the Visitor Center, guides visitors through this 81-acre sea of tall grasses and spectacular flowering forbs.
The Herbert Hoover Prairie Trails were designated National Recreational Trails in 1981.
Last updated: February 14, 2019