What's Going On With the Volcano?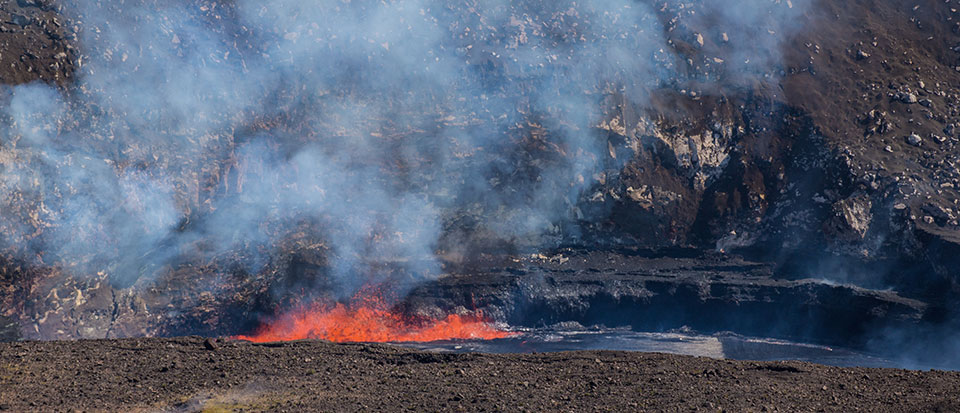 Current Conditions Courtesy USGS - Hawaiian Volcano Observatory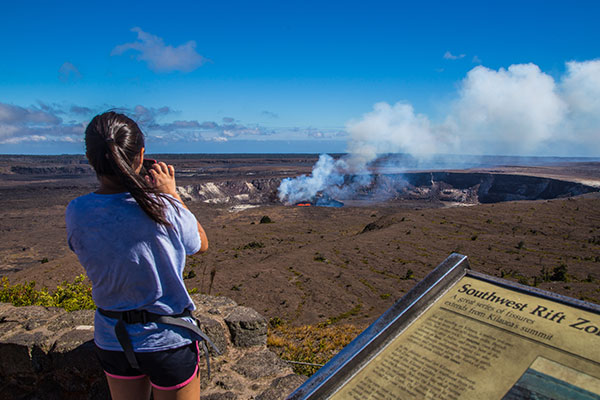 September 30, 2016 - 9:02 AM HST
Activity Summary: Kīlauea Volcano continues to erupt at its summit and at the Puʻu ʻŌʻō vent on its East Rift Zone. Summit inflationary tilt began around midday Thursday. The lava lake surface is currently about 26 m (85 ft) below the floor of Halemaʻumaʻu Crater. The 61G lava flow continues to flow into the sea at Kamokuna. The flow poses no threat to nearby communities.
Summit Observations: Summit tiltmeters recorded a switch to inflationary tilt that began around midday Thursday. Steep inflationary tilt since that time has recovered nearly all that was lost in the deflation part of the DI cycle that began on Tuesday. The lava lake surface has risen commensurately and currently stands at about 26 m (85 ft) below the rim of the Overlook Vent. Spattering from the lake surface once again became visible from webcams located in the HVO observation tower. Webcam views of the lava lake can be found at the following webpage: http://hvo.wr.usgs.gov/cams/region_kism.php.
Summit seismicity is at typical levels this morning, while volcanic tremor amplitudes continued to fluctuate in association with lava lake spattering. Average daily summit sulfur dioxide emission rates ranged from 4000 to 6800 metric tons/day over the past week. GPS and InSAR data have recorded a long-term inflationary trend of the summit magma reservoir complex since 2010.
Puʻu ʻŌʻō Observations: No significant changes are visible on webcam images, with persistent glow continuing at long-term sources within the crater. A tiltmeter on the north flank of Puʻu ʻŌʻō continues to record very gentle deflationary tilt. The sulfur dioxide emission rate from all East Rift Zone vents was about 310 metric tons/day when last measured on September 26.
Lava Flow Observations: The 61g lava flow, extending southeast from Puʻu ʻŌʻō on Kīlauea's south flank, continues to supply lava to the ocean at Kamokuna. Active breakouts have occurred on the coastal plain about 2 km (1.2 mi) inland from ocean entry during the past week. An HVO field crew will be conducting an overflight today to update conditions.
As a strong caution to visitors viewing the new ocean entry (location where lava meets the sea) for Flow 61G, there are additional significant hazards besides walking on uneven surfaces and around unstable, extremely steep sea cliffs. Venturing too close to an ocean entry exposes you to flying debris created by the explosive interaction between lava and water. Also, the new land created is unstable because it is built on unconsolidated lava fragments and sand. This loose material can easily be eroded away by surf causing the new land to become unsupported and slide into the sea. Finally, the interaction of lava with the ocean creates an acidic plume laden with fine volcanic particles that can irritate the skin, eyes, and lungs.
Please see these fact sheets for additional information: http://pubs.usgs.gov/fs/2000/fs152-00/
Video of the lava lake splashing and sloshing inside Halema'uma'u Crater at the summit of Kīlauea in Hawaii Volcanoes National Park on the evening of Sept. 7, 2016. This video was filmed by Sami Steinkamp, an intern with the Student Conservation Association's Centennial Volunteer Ambassador program. Sami was at the Jaggar Museum observation deck, about a mile from the eruption site, the closest visitors can get.

Duration:

1 minute, 53 seconds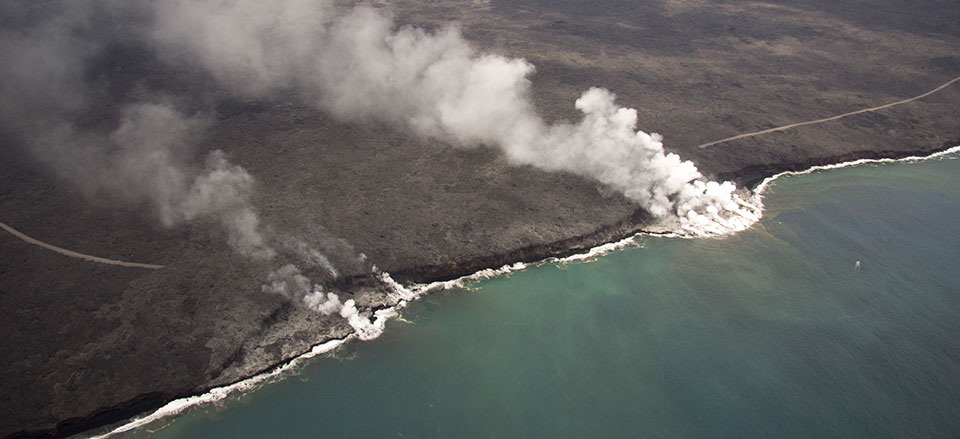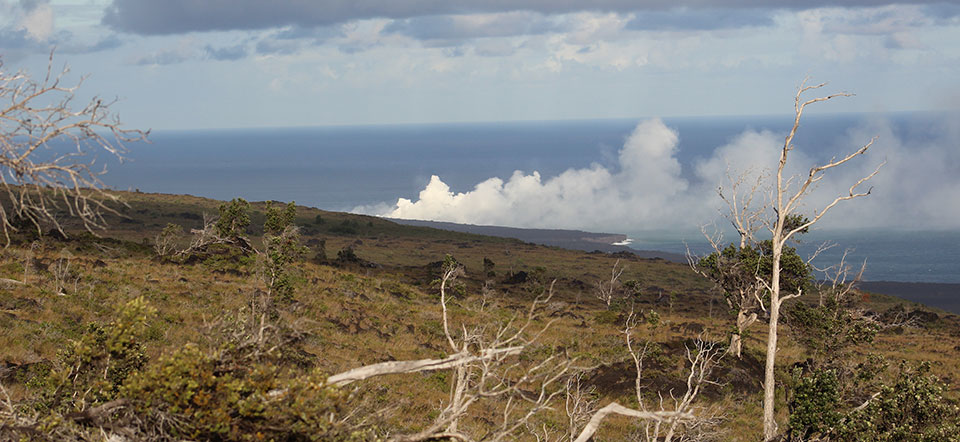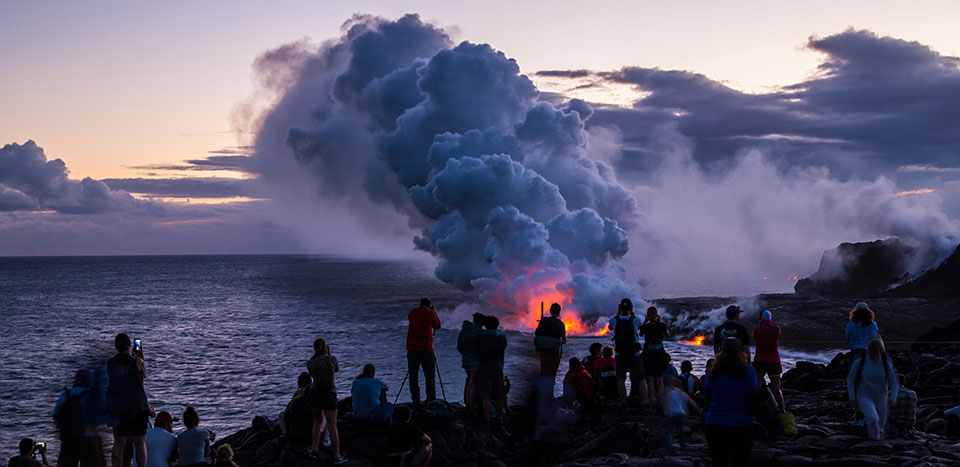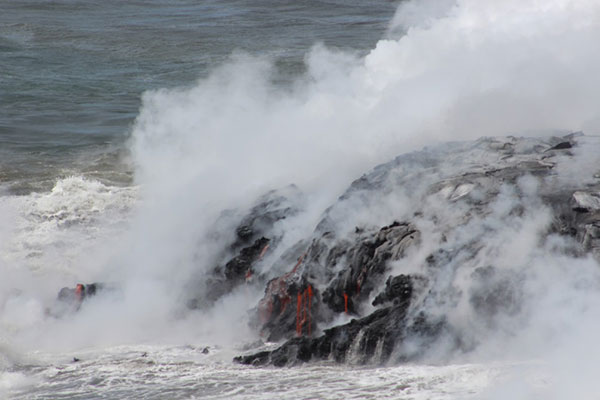 Hawai'i Volcanoes National Park Lava Flow Updates
The 61G lava flow, southeast of Puʻu ʻŌʻō, continues to stream down the Pulama Pali onto the coastal plain of Kīlauea volcano's East Rift Zone into the ocean. The actual flow is moving slowly and many breakouts were active upslope and widening the flow field. Bright incandescence remains visible on the active lava flow field, marking areas of active breakouts.
Park rangers have set up a Coastal Ranger Station (CRS) at the end of Chain of Creaters Road with eruption update, hiking and safety tip exhibits, and a monitor that plays a four-minute lava safety video. Visitors are strongly urged to stop and talk with rangers and review all signage and watch the video at the CRS. The CRS is staffed daily and in the evening during peak visitation hours. The park is open 24 hours a day.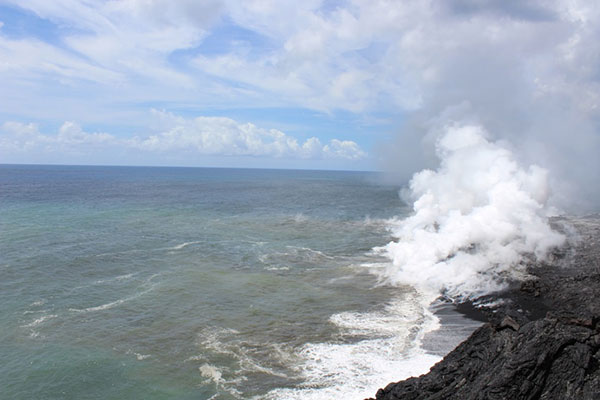 Hiking out to the lava flow from the park is allowed, but it's not for everyone. From the CRS, it's a grueling, 7.4 mile roundtrip hike. Hikers may walk along the gravel emergency access route for the majority of the hike.

All who attempt to hike out the lava flows are urged to prepare ahead and bring a 2-4 liters or quarts of water for every person in your party, sun protection, a hat and wear strong hiking boots or shoes. If you hike out later in the day, ensure you have a good flashlight and extra batteries in case you are out after dark. Cell phone flashlights are not sufficient. See the safe hiking tips for additional information on proper footwear, clothing, and other important safety information.
Stay safe, and be very mindful of poor air quality. When plumes of hazardous volcanic gases (sulfur dioxide and hydrochloric acid) are blown along shore, they are a threat to your health. It is currently best to hike in from the County of Hawai'i lava viewing area on the Kalapana side to access the ocean entry. The Kalapana access is open daily from 3 p.m. to 9 p.m. It's about a 4.2-mile hike from the Kalapana boundary to the ocean entry viewing point, one way, along the gravel emergency access road.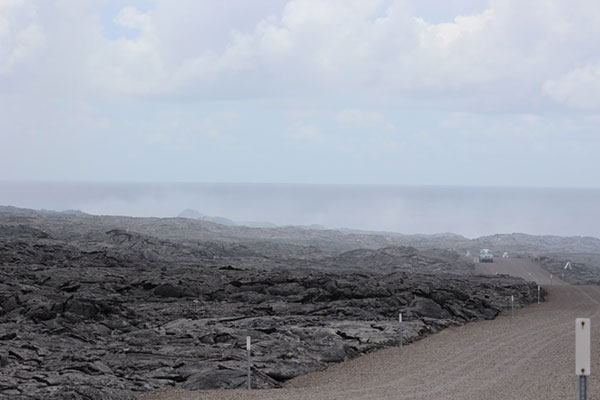 If you do hike in from the park side, be aware that the gases get stronger the closer you get to the ocean entry. Rangers have roped off the park side of the ocean entry and placed signs warning of the toxic fumes. Be aware that even in the open areas, volcanic gases are likely to be at unhealthy levels. Volcanic gases are a danger to everyone, particularly to people with heart or respiratory problems and infants, young children and pregnant women. Check with rangers at the end of Chain of Craters Road about current conditions before you head out, review the exhibits, and obey all closures and signs. You can head inland to avoid the fumes, and hike until you get upwind of the ocean entry fumes.

Volcanoes are dynamic and ever-changing natural phenomena. The flow information, distances, and other lava information provided here can change at any time.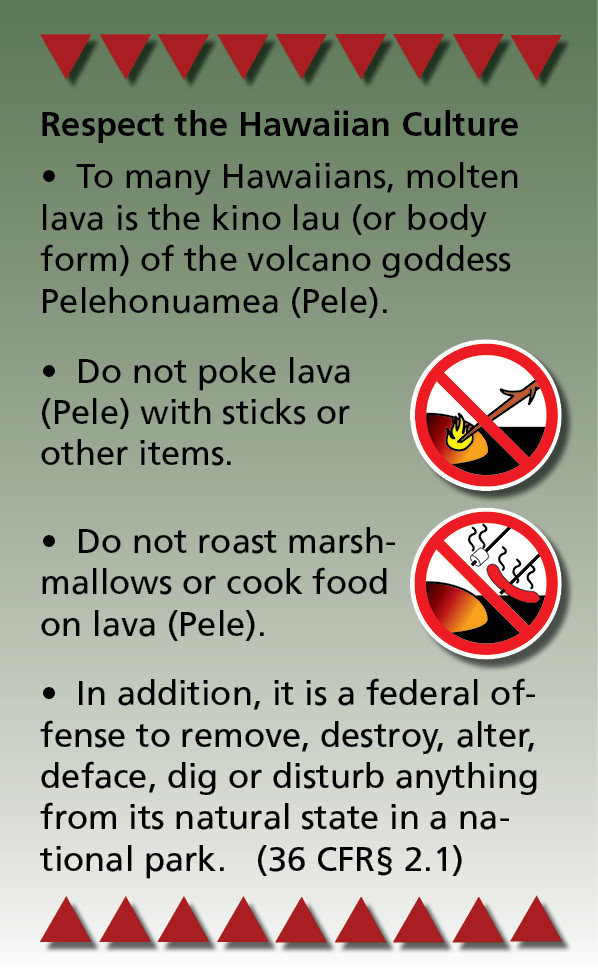 Experienced bicyclists may use the gravel emergency access route during the day. It is not recommend to ride bikes on the loose gravel after dark. Motorized bicycles are prohibited.

Respect the Hawaiian culture. Do not poke lava with sticks or other items. Do not roast marshmallows or cook foods. To many Hawaiians, molten lava is the kinolau, or body form, of volcano goddess Pele. In addition, it is a federal offense to remove, destroy, alter, deface, dig or disturb anything from its natural state in a national park. (36 CFR § 2.1)
Pets, motorized vehicles, unmanned aerial systems (UAS) and overnight camping on the flow field within the park are prohibited.

Visitors are advised to "slow down and go with the flow." Hiking to the current lava flows is a 6-8 hour adventure for most fit hikers. Adding a roundtrip drive from the west side of Hawai'i Island makes for a very long day, and is not recommended. Remember: Kīlauea is also erupting from its summit crater, Halema'uma'u. You can safely and easily observe the summit eruption from the observation deck at Jaggar Museum, which is open 24 hours a day.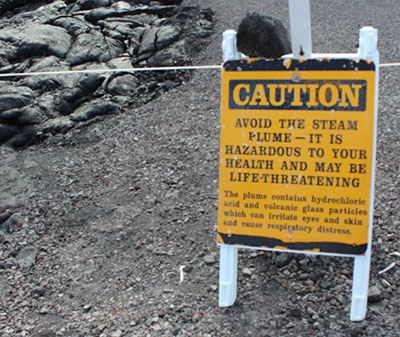 Click here for safe hiking tips
Click here for the latest volcanic emissions update (external site)
Click here for the latest USGS Hawaiian Volcano Observatory eruption updates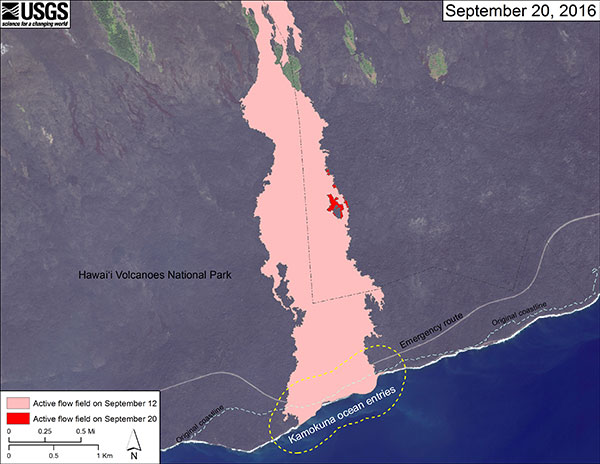 This map shows recent changes to Kīlauea's East Rift Zone lava flow field at the coast. The area of the active flow field as of September 12 is shown in pink, while widening and advancement of the active flow as mapped on September 20 is shown in red. The dashed blue line shows the pre-1983 coastline. The base is a Digital Globe image from January 2016.
Lava deltas –the new land accreted to the front of an older sea cliff –are prone to collapse because the loose underwater lava rubble on which they are built can sometimes become unstable and slide. The interaction of the hot rock composing the delta and cold seawater has led to violent explosions that blasted rocks in all directions, caused local tsunami, and produced billowing plumes of ash and hot, acidic steam.
The dotted line surrounding the Kamokuna lava delta indicates a distance of 300 m (790 ft), which is the maximum documented distance that rocks and spatter have been thrown inland from the older sea cliff by delta explosions that occurred during the Puʻu ʻŌʻō eruption. It is possible that debris could be thrown even farther during exceptionally large explosions.
Full resolution image (opens in new window)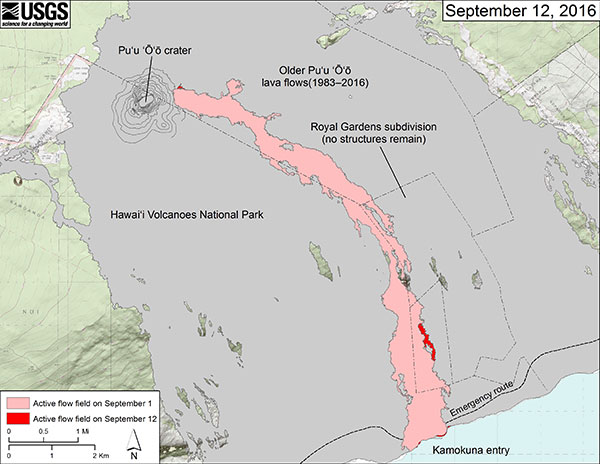 This map shows recent changes to Kīlauea's East Rift Zone lava flow field. The area of the active flow field as of September 1 is shown in pink, while widening and advancement of the active flow as mapped on September 12 is shown in red. Older Puʻu ʻŌʻō lava flows (1983–2016) are shown in gray.
Full resolution map (opens in a new window)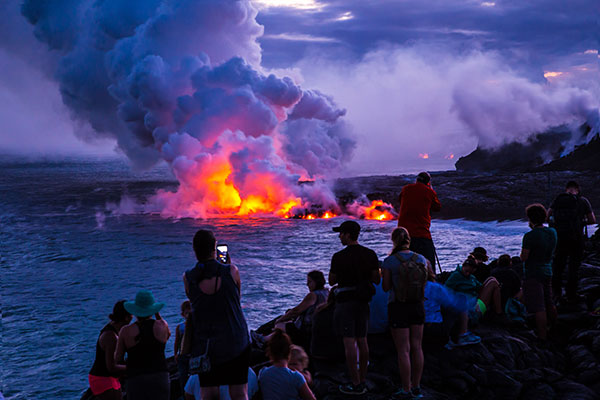 July 3, 2016 - County of Hawai'i Civil Defense Agency Press Release (pdf 110KB)
The County of Hawai'i has opened the emergency road on the Kalapana side for lava viewing since Thursday, June 30, 2016, between the hours of 3:00 pm to 9:00 pm daily. This is outside Hawai'i Volcanoes National Park and managed by the County. Please read the entire press release for more information.
Kalapana viewing area status (recorded message): 808-430-1966
Directions to Kalapana from Hawai'i Volcanoes National Park: Take Hwy 11 towards Hilo to Hwy 130. Follow Hwy 130 until you reach the road's end and the visitor parking area. (45 miles).
The lava lakes in the Puʻu ʻŌʻō crater and Halemaʻumaʻu crater, as well as other views may be viewed on webcameras made available by the scientists at USGS Hawaiian Volcano Observatory. Daily updates by staff that monitor Hawaiʻi's volcanoes provide visitors with the most recent observations on volcanic conditions.
Links to More Information:
USGS Hawaiian Volcano Observatory
Scientist's Daily Updates
Webcams
NPS Air Quality & Weather Page
Air Quality Monitors at hawaiiso2network.com
Earthquakes - Hawaiʻi
Earthquakes - Worldwide
Multimedia/Photos/Videos