Day Hike - Ha'akulamanu (Sulphur Banks)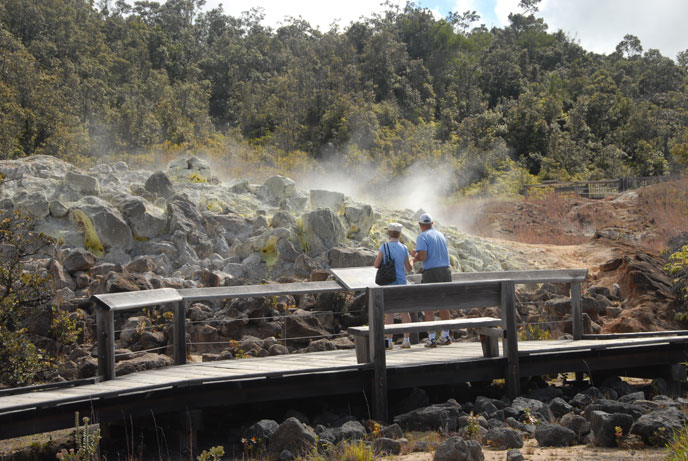 Ha'akulamanu (Sulphur Banks) Trail
Due to underground heat, this dramatic volcanic thermal area has very few trees. Known as Ha'akulamanu, this unusual place, with steaming cracks and colorful mineral deposits, has been famous for birds and healing vapors.
Difficulty: Easy
Distance: 1.2 mile (2 km) round trip
Trail begins at the far left of the Kīlauea Visitor Center parking lot past the Volcano Art Center Gallery
(The other end of the trail can be picked up across the street from the Steam Vents)
Due to sulphur fumes, people with heart or respiratory concerns, pregnant women and young children should avoid this trail. Stay on the trail; beware of steam and cracks. From the Kīlauea Visitor Center, trail grades are eight to twelve percent. Wheelchair accessible from Steam Vents to Sulphur Banks.
March 11, 2016 - Sulphur Banks Trail Improvements Underway
more>>